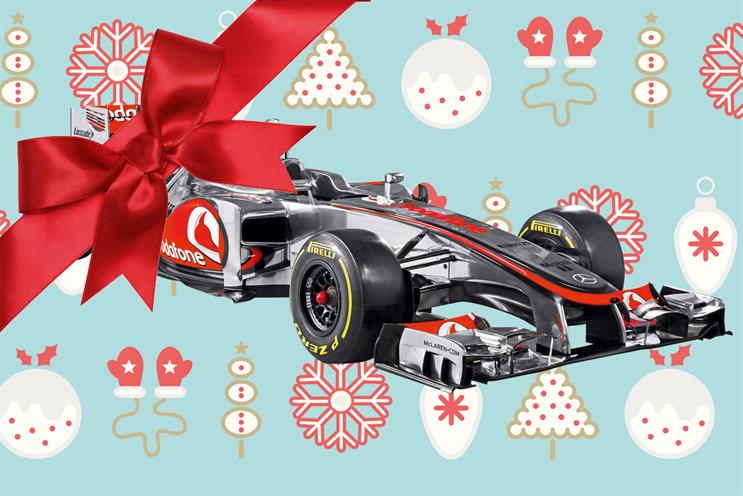 Rob Doubal
Co-president and executive creative director, McCann London
If Santa brought us one client for Christmas, it would be a luxury, banky, arty, retaily, sporty, fashiony sort of IP share tech start-up with a sustainable culture and a product offering to upset a spaceman. All this, coupled with the rudest ambition and hunger to build the strongest of brands with an agency partner well-versed in stealth, comedy, emotional enlightenment, innovation, serendipity and ready to generate big-data, small-footprint, fully integrated, 360-, 370- and 380-degree-transmedia, 4K-ready, topical, poignant, famous, sticky and inspiring content ideas. Failing that, The British Rabbit Council. I love its logo.
Dave Bedwood
Creative director, Lean Mean Fighting Machine
I open my final present and stare in awe: He-Man! From an era when a hashtag denoted a number and TV presenters seemed natural around children. The 80s. Adland's heyday. Oh, He-Ham, Master of Advertising, take me back! Sign off ridiculous production budgets where directors get wanked off by monkeys balancing bowls of nose candy on their heads and Elton John plays at the wrap party dressed as Donald Duck. Raise your magic marker and scream: "By the power of clients, I have the power!" Suddenly, a great noise brought me back to the present. Gran had farted, and I was a 39-year-old man crying on to my niece's Harry from One Direction doll. #badxmas.
Jason Goodman
Founder, Albion London
Dear Santa,
This Christmas, I would like Elon Musk and Tesla to land at the foot of the Albion Christmas tree. Elon Musk is one of the century's great serial entrepreneurs – he taught himself to code at 12 and sold his first game for $500 the same year. He went on to found the billion-dollar businesses PayPal, Solar City, SpaceX and Tesla Motors. He's been called the Steve Jobs of our generation. Who wouldn't want to spend Xmas learning from someone who is living life as a tech adventurer, someone who is changing the world for the good and still making a buck? Sitting in front of the fire with Elon would beat getting bored stiff watching reruns of The Wizard Of Oz. God, I hate those flying monkeys. Say hello to Rudolf and please can you ask Elon to bring me a Model X – the waiting list is too darn long.
Dan Shute
Managing partner, Creature
I bloody love Christmas. Good food, good booze, good people, and seven blissful days when the e-mails don't come. So, to be honest, the idea of a brand-shiny-new client turning up under the tree on the 25th fills me with a sick dread. Can't we get drunk together in January instead? No? Oh, alright. From a responsible business point of view, I'd love a car brand. From a "sod the lot of you, it's Christmas" point of view, I'll take the WRU and fixing the Welsh regional game. Oh, and a whisky brand. Cheers, adland. Happy Christmas!
Sarah Golding
Chief executive, CHI & Partners
My great-grandfather was the chairman of Blackburn Rovers, and I would love to help them return to glory. It won't be easy, with all the crazy chicken farmers, mad managerial changes and a loony wages bill, but I love a challenge. Before you know it, Becks will be back on the field, there will be millions around the world draped in the glorious blue and white, Ewood Park would have the first Jason Atherton-inspired matchday catering and Stella McCartney will be designing the kits. Only five clubs have ever won the Premier League. We are one of them, and I will bring that cup back home – for you, Granddad.
Liz Wilson
Chief executive, CMW
McLaren is definitely my dream client. No other company has its total commitment to performance. Ron Dennis described it in Cannes this summer as a technology company that owns a Formula One team – 80 per cent Nasa, 20 per cent Disney. I love that it operates at the precise intersection of science and entertainment, and that's the template for the agency of the future. It is doing what most marketers only talk about: living their lives in real time by the data and optimising strategy. I have no doubt it would be massively challenging and demanding, but it would make you a better agency too.
Craig Mawdsley
Joint head of planning, Abbott Mead Vickers BBDO
If I could have one client for Christmas, then I would travel back in time to the 20s and work with London Transport. I would have the joy of working on the most ambitious multichannel integrated communications brief ever seen – creating a lifestyle for a city, not just an ad campaign. I would work with architects to commission new stations – with an aesthetic shared by the artists I would commission to create posters that encouraged people to live in new places that I would also have had a hand in planning. And all using the greatest corporate identity mandatories ever devised. Heaven.
Jonathan Trimble
Chief executive, 18 Feet & Rising
If Santa brought me a new client for Christmas, it would have to be the Government Digital Service. It's a fantastically gifted team and reimagining from scratch how we interact online with our own government and related bodies is something genuinely game-changing. Getting creatively stuck into that would be a blank canvas for all sorts of possibilities. I can't help but think about discovering a new generation of digitally native Beasts of Bolsovers, or a House of Commons chat roulette, or maybe a discounted Friday online MP consultancy, or a Freecycle service for unwanted bird baths. There's so much possibility in an area that has previously been so moribund and crap.