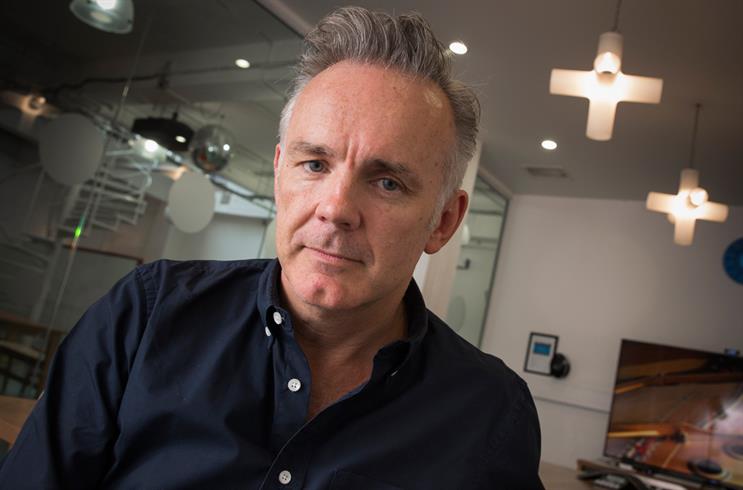 Who are the industry's biggest boundary pushers, the ones who have really made a difference? And who do they most admire?
In this series, produced in association with The Trade Desk, we invite the industry's leading lights to interview and be interviewed. Each instalment sees a boundary pusher interviewing one of their peers – who then nominates their own interviewee in turn.
In the last instalment, Graeme Douglas, executive creative director of TBWA/London was interviewed by Tess Alps, chair at Thinkbox. In turn, Graeme Douglas has selected Neil Christie, managing director at Wieden + Kennedy as his boundary pusher.
Neil reveals what he really wanted to be growing up and says that Wieden + Kennedy are committed to promoting advertising as a career choice by working with schools and colleges. They use the "Kennedy's" to give people an all expenses paid taster of life in an agency — in the hope of sourcing new talent as a result.
How did you start in the industry?
I wanted to be a cartoonist when I grew up, but that didn't work out. In fact, I went on to study law – in my mind, I was going to be a brilliant criminal advocate, but I soon realised that more realistically, I would be drafting old ladies' wills in Dundee.
I hit upon advertising because it was an ideal mix between the commercial and the creative, so I wrote to the top 40 or 50 agencies, applying for various graduate schemes and got a single interview at Allen, Brady and Marsh, which saw me land the job.
Do you do graduate schemes at Wieden + Kennedy?
We don't have a graduate scheme as such – we do a thing called the "Kennedy's" – we take on a bunch of people who have never worked in advertising and don't necessarily have a degree, but are creative. They're makers or thinkers that haven't necessarily studied something relevant.
We invite them to apply for the scheme and pay them to come and spend six months with us. And we include accommodation as this is often a very big barrier with coming to work in London. They work on live projects where hopefully they will learn something from us and we learn something from them – it's not like a conventional graduate scheme, it's more of a learning exchange.
You've served almost served 13 years at the agency… which piece of media work are you most proud of?
The Honda campaign is the thing of which I am most proud. There's a whole series of things we've done on that campaign that were innovative, creatively exciting and successful. Indeed, it's some of the work that has ultimately built the agency's reputation. Standout moments of the campaign have to be Grrr for Honda diesel, Impossible Dream and then last year the Type-R campaign, including the interactive "press R button". But, there has been a ton of work we've done for Honda over the past 15 years that's been really good.
And which piece would you like to have another shot at?
The two clients where I felt we didn't, for various reasons, get to do our best work is Nokia and Tesco. With both of them, we had patches where the things we did we thought were great, but we didn't manage to get enough traction to get a body of work across channels and across time. We didn't manage different initiatives to build into something significant.
Both of them were going through issues that were nothing to do with communications – Nokia was going through huge market upheaval due to Apple and Google coming into the market.
Tesco was going through massive changes in terms of the impact of discounters on the UK retail market as well as implications of scandals around the quality of food, changes of management, accounting scandals and so on that weren't necessarily fixable with communications. But this had an impact on the team we were working with. It's hard to know what to do differently though. Hindsight is a wonderful thing.
How does W+K attract the sort of clients who want to push boundaries. Do you get the clients you deserve?
We have a reputation within the business of being associated with highly creative and culturally influential work that pushes boundaries and aims to be not controversial, but we exist to create strong and provocative relations between good companies and their customers.
We don't position ourselves as an agency for doing creativity for the sake of it. We look to use creativity to build stronger relationships. We also recognise that we are always trying to provoke some kind of response or reaction. We are trying to get people to think or do something differently.
This approach could cut out some clients – they might look at the kind of work we do and decide that's not what they are interested in, but we talk about creativity as a weapon that can give clients a competitive advantage.
Some clients aren't comfortable with that. In the end, we're not everyone's cup of tea. We would rather be recognised for being very good at certain things rather than seen as OK at everything. I am very keen for some clients to be keen to work with us and some clients to be afraid to work with us.
The same is true for the people who work here. Not everyone would want to work at a place like this. People here say it's a hard working environment, it can be quite tough – but we are genuinely committed to doing the best work that we possibly can. It's a place where people want to do and will do the best work of their lives.
We will push our clients to do the same. I wouldn't say we are difficult or awkward, our clients would say we are principled and hard working and opinionated. We are trying to put the work first, if we do the best work we can, then the relationship will be good. So in terms of priorities it's work, client then ourselves.
Do you think it's finally time to ditch the word digital?
The way we always talk about it is that we are in a digital world – so it's meaningless to talk about things being digital or not digital – everything is digital – and everything we do is geared to a world where that's the case, so it's not worth talking about it in those terms.
An agency needs to be abreast of tech developments to give their clients the best possible advice – there is this requirement for any company that's advising clients on how to reach people in an environment that is changing dramatically in terms of technology and media.
That doesn't necessarily mean we should pursue the latest shiny bit of technology just because it's new. You need to give the best advice to the people you are working with and the brands or products that you are trying to persuade people to buy.
With the amount of tech we now use in our industry, do you think we'll need to look elsewhere for future talent?
I don't know if it's about casting the net wider – there's a whole host of other options available to people now. There's a much greater diversity of what people can do. We're in competition with tech companies that weren't around in the past. Now we're competing with Facebook, Google and other emerging media and technology startups. We need to spread the word that what we do is also a viable career option.
How does W+K attract and retain the very best talent?
It's a whole combination of stuff – working with schools and colleges to communicate to people who are there to consider what we do as an option. We do a thing called 'forever curious', which is targeted at primary school aged kids, where we run creative workshops. In senior schools, we do the 'good jobs initiative' – we work with schools in Hackney to provide internships for 16 year olds. Then there are outreach schemes we do with schools and colleges – like host events in the agency. Finally, there's the Kennedy's, where we offer six months all expenses paid work experience.
What needs to happen for the boundary between creative and media to, if not disappear, at least stop being an impediment?
It's difficult because you have had the divergence between media and creative agencies – you use to have it all integrated and now that's very rare.
What that results in is a potential for a strategic divergence between pure media efficiency and effectiveness. The media and creative agencies aren't talking to one another.
That's further exacerbated because businesses are tougher and more competitive than ever. You've increasingly got media agencies and creative agencies in competition. Creative agencies do comms and media planning and media agencies are putting in creative units. The danger there is the overlap creates competition and makes them less likely to collaborate.
People need to work better together, roles need to be defined, so there is less fighting over the table scraps; good fences make good neighbours.
What single piece of advice would you give your younger self now, knowing what you know?
The last thing I would advise myself on is work.. I would tell my younger self to lighten up, don't work so hard and don't worry so much. I worried too much about my career in my 20s. I wish I had worked abroad, travelled more and been a bit braver – in terms of my approach to my work and life in general.
Who do you nominate to be your boundary pusher and why?
I nominate Jenny Biggam, founder of the 7Stars. I have been intrigued and impressed with all I have seen and heard about 7Stars, especially since it's an independent agency.