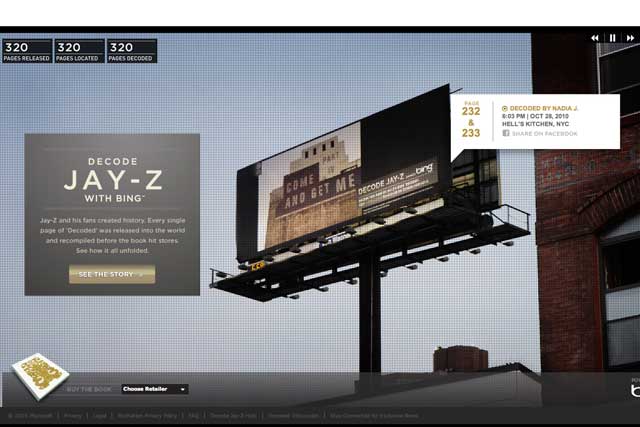 One day, this will be cited by the next generation of industry stars as one of the pieces of work that inspired them to get into our business. For me, it's the benchmark for integrated thinking. And proves that advertising can take on any shape. I still have to swallow back the sick every time I think about this campaign having someone else's name on it.
A simple idea played out on an audacious scale and beautifully executed. The attention to detail is incredible. Every day for a month, another page of Jay-Z's memoir, Decoded, was placed somewhere in the world that was relevant to the content of the page. One was made into the silk lining of a jacket; another lined the Delano pool.
By following clues on Facebook and Twitter and utilising functions on Bing, you could piece the book together digitally on the Decode site, enabling you to read the book before it was released.
The idea generated a phenomenal amount of media attention, resulting in Bing becoming one of the world's top-ten most-visited sites.
So, not only genius, but successful genius.
Roll the Credits
Title: Decode Jay-Z with Bing
Clients: Eric Hadley, general manager of marketing; Ryan Cameron, senior
marketing manager, Bing
Agency: Droga5
Creative director: Neil Heymann
Copywriter: Adam Noel
Art director: Jon Kubik
Designer: Jon Donaghy
Director of photography: Paul McGeiver
Senior digital designer: Piper Darley
Head of integrated production: Sally-Ann Dale
Senior digital producer: Andrew Allen
Executive OOH producer: Cliff Lewis
Studio artist: Chris Thomas