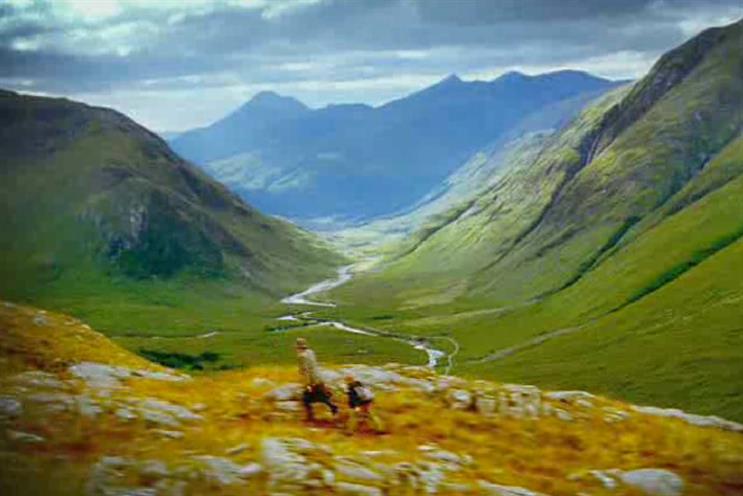 However, I'm going to waffle on about a small TV commercial St Luke's did for the opening of Ikea's Edinburgh store more than a decade ago.
In it, an old kilted Highlander waxes lyrical to a young boy about the beauty and history of the Scottish Highlands, while the camera swoops cinematically over and through hills and dales. As the rousing speech reaches a climax and the two approach the summit of the Highlands, the old man nearly has a heart attack as he spots a large ugly Ikea store slap bang in the middle of the beautiful landscape. "The bastards!" he coughs. An endline slams down: "PROGRESS."
I remember seeing this when doing the rounds as a disgruntled, unemployed junior and thinking: "Yes. Yes. Yes. Some confirmation of why I am trying to get into this spirit-crushing business." It was cool. Exciting. Edgy. Surprising. It felt (and still feels) punky and brave for what was then a relatively foreign brand in the UK. It's a good reminder of the importance of being punky and brave. It made young creatives like me want to go to the agency that made it. To make fun, challenging creative work. To go to Scotland. God forbid, to go to Ikea.
So, yes, I loved it then and, watching it again, still do. It takes you one way and – bam – takes you another. Despite being written around a brilliantly dark and negative gag, it feels positive – it's beautifully shot, timed, cast and crafted. And it's simple. Forty seconds. You could draw it up as key frames in a
student book and it still works a treat. You can tell it in a pub to non-ad people and it's as good as any "two pints in" anecdote.
Sure, it's not a big brand commercial, nor was it written to win awards (St Luke's didn't enter them). If it had been link-tested, as is the norm today, I doubt it would ever have seen the light of day. It didn't have a Facebook page, as there was no Facebook then. And I doubt, on its own, it did anything to enrich the lives of the core target-market consumer. In fact, it's unlikely that many people even remember it. But I remember it. And I wish I'd done it.
It's also, by the way, ball-tearingly hilarious.
(Think I forgot to mention that.)