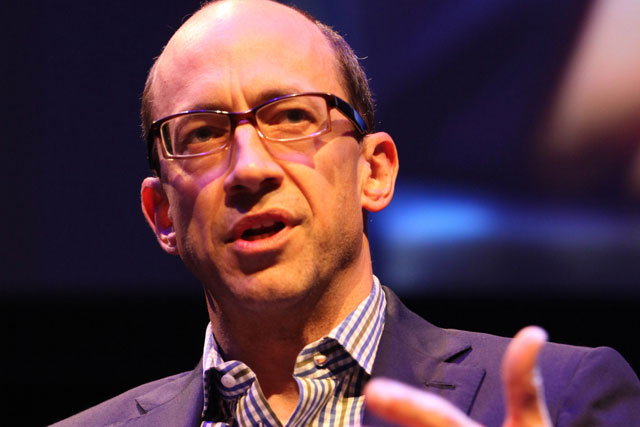 Costolo was speaking at the Internet Advertising Bureau's annual Engage conference, where he was interviewed by Nicola Mendelsohn, the IPA president and Karmarama executive chairman. He told marketers in the audience that being "authentic" is his best advice for success on the platform.
He said: "Brands are starting to realise this. It can be a quirky voice - that's OK but what consumers hate is an inconstant tone."
He gave the example of a US electronics company whose customer service team had successfully managed its Twitter account and developed a sizeable following.
He explained the company's marketing team then started to use the account to send out its messages, using a different tone to the customers services team, but, "Consumers detected it, didn't like it and it shed followers."
He pointed to O2 as a UK brand which is doing a "fantastic job" on Twitter.
Costolo discussed Twitter's recent rollout of interest-based targeting for advertisers. Without giving details, Costolo said that it would be further leverage the "interest graph" of its users to ramp up targeting on its ad platform.
He also discussed how Twitter has started testing alternative terms for "favourite" for tweets, such as "like". "Favourite feels a little bit too heavyweight," he said. "You will look at a tweet and like it, but they will say 'it's not my favourite tweet, so we are testing some lighter weight terms."
"Engagement begets engagement. The lighter weight and more frictionless you make it to engage to more that will drive additional engagement."

When Mendelsohn questioned him about how Twitter competes with traditional media, Costolo said this was not the case. "I think we bolster and enhance traditional media," he said, pointing out that Twitter co-founder Jack Dorsey often describes tweets as a caption that often points to some deeper analysis, or a video.
Discussing Twitter's partnership with NBC for the Olympics, Costolo said that it would be looking to do other media partnership in the future, but it is also developing tools to help third parties curate events themselves.
He disputed that the growth of the business could harm the user experience, explaining, "I don't think the growth and success of Twitter is at loggerheads with being a service people love.
We have to defend and respect users' voices and we feel we have the right processing in place for this, which are not contrary to goals of businesses."
Other speakers at the event include Ajaz Ahmed, founder and chairman of AKQA, Fru Hazlitt, managing director of commercial, online and interactive at ITV and Peter Duffy, marketing director at EasyJet.