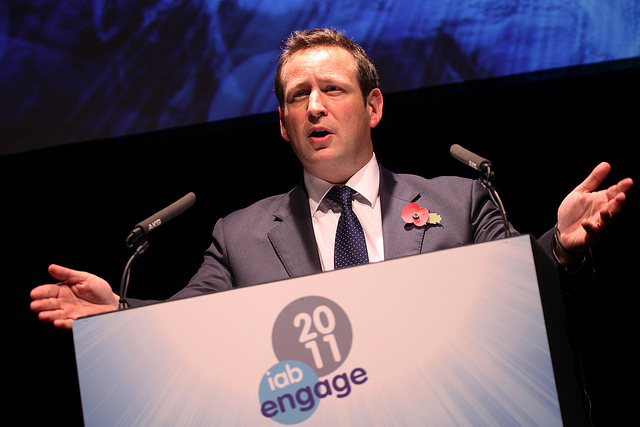 The minister kicked off his speech to the 600-strong audience at the IAB Engage conference today by stressing how supportive he was of the online advertising industry and in particular the work of the IAB.
He said: "One of our successes is the huge amount of content we make for free, which is made sustainable by online advertising."
"The UK has absolutely excelled in online advertising and its growth is manifestation as to why we are so good in this medium."
He discussed the challenges the industry faces on issues such as privacy and the need to strike "a careful balance" between protecting the consumer online and not unnecessarily restricting innovation in this space.
He said: "It is a difficult balance to strike but I am an optimist and I see the challenges as an opportunity to cement our position as a leader."
Discussing online behavioural targeting, he said it can be "huge benefit" to both business and consumers but businesses must get it right as consumers "don't want to feel stalked" when they are on the internet.
He called for easy to understand information to be available to consumers on the subject.
Vaizey praised the work of the IAB on its self-regulation framework for online behavioural advertising.
Discussing the e-Privacy directive, Vaizey said: "I am delighted to say the UK is one of the first countries to implement the directive". But he admitted it "is not easy to implement" and will be "disruptive and costly."
He said that publishers and browser developers were also crucial to the privacy debate and "must come together to create a cohesive whole".
When questioned by a member of the audience whether the May deadline of the ePrivacy directive implementation was achievable, with mixed messages from the Information Commissioners Office (ICO) and the Department of Culture, Media and Sport (DCMS) over guidelines, Vaizey said: "We can achieve the May deadline but I need to work closely with ICO, sit down and discuss implementation - that needs to be done now."
He said he would welcome guidance from the IAB and industry on how to create clear guidelines about how the directive is implemented.
"The ePrivacy directive we inherited from the EU is complicated, but it was a hell of a lot worse in draft form," he added.
As well as repeatedly arguing the need to preserve a balance between consumer protection and business innovation, Vaizey was keen to stress to the audience that the Government is working towards ensuring implementation does not stiffle business growth.
He gave the audience the takeaway: "The internet economy will contribute to 10% of GDP by 2015. If we achieve that we will reap the benefits of this economy."
Online privacy was an issue picked up by Google UK's new managing director Dan Cobley earlier in the day who said that marketers need to be clear with consumers about the transparency and integrity they offer.