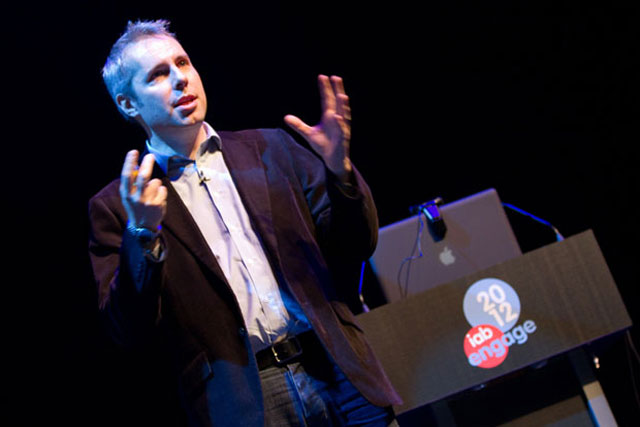 Rogers was speaking to Marketing after his presentation to the IAB conference about his work with data at The Guardian.
The presentation was interesting for marketers insofar as it covered the visualisation of data, but Rogers could have expanded on the double-edged sword for brands of releasing information into the public domain.
For example, the energy companies that have signed up en masse to the Government's Midata scheme, which is intended to give customers more control over their transactional data, might have experienced no little apprehension during Rogers' presentation.
Rogers showed how his team has interrogated, published and shared openly with the public, data themes such as the Government's public spending and tax receipts and the spread of news and incidents during the August 2011 riots.
Rogers told the audience: "People used to say never let the facts get in the way of a good story. The facts have become the story."
He could likely do some interesting things if he was able to get his hands on energy companies' customer data, raising questions about how shareable the format in which brands will choose to make their data available will be.
"If it's just allowing one person to get hold of their stuff, it's great for that one person, but it's less useful journalistically," he told Marketing.
He said that in his experience, data was more interesting for people, "when you have that collective experience, [showing] how much what's happening to them, reflects what's happening to other people".
He also recommended "making complicated data much more personal".
In his presentation, Rogers covered this angle with reference to The Guardian, introducing the ability for people to tweet where they fell in an income scale.
His team didn't expect people to share the fact that they were poor or rich, but they did.
Rogers' experience should be interesting for the likes of Tesco, which, as we revealed earlier this month, is planning to hand customers control of their own data for the first time in an initiative called 'Clubcard Play'.
It plans to develop products and games to give Clubcard-holders "simple, useful, fun" access to their own data, to help them "plan and achieve their goals". The retailer's aim is to build personalised access to customers' own "data capability plans".
Tesco will also explore ways in which games could create new media opportunities for brand owners, as well as further marketing opportunities for its own business.
A Tesco spokeswoman insisted its plans were not connected to Midata, as it had been thinking about how to give customers access to Clubcard data 'for some time'.
Other speakers at the event include Ajaz Ahmed, founder and chairman of AKQA; Fru Hazlitt, managing director of commercial, online and interactive at ITV, and Peter Duffy, marketing director at EasyJet.
Follow @DanFareyJones