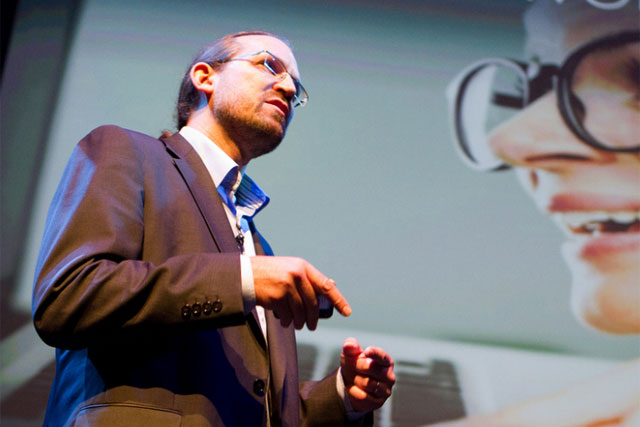 Dave Coplin, chief envisioning officer at Microsoft, admitted he was talking beyond his remit when describing in broad brushstrokes about what to expect from the company's marketing over the next few months.
Activity will begin in the coming days, and is set to continue well into 2013. Coplin said: "It's for a whole range of things, starting from over the next few days, it's going to go bang, bang, bang.
"We've got a pipeline of things that will include the tablet [Surface], Windows 8, the Windows phone, we've got some other stuff up our sleeves, then we're into new versions of Office."
Microsoft also continues to promote its search engine Bing, with estimates of spend of up to $100m this year.
Coplin, who has been at the company since 2005, recalls Microsoft's pioneering push when Windows '95 launched, and believes the coming months will far exceed that.
He said: "This is global, and you're going to see some things that will just blow your mind I tell you... It's been very tightly managed, people have been really focused on the potential..."
The marketing blitz promises to encompass the panoply of the technology giant's products and services, with talk of "polymorphic ads", that will showcase a number of products and can be run across multiple platforms.
Coplin added: "We forget in the world of Facebook and Google that actually the breadth of Microsoft is what makes us really special.
"The thing that you will see over the next few months is not just the individual products but how they complement each other, support and feed into each other."
Microsoft famously had a media budget of $500m when it launched Kinect in November 2010 but Coplin is adament the next few months will see more investment than that. It is being described as a pivotal move in the company's history, with the internal hyperbole talking about it positioning "a new era for Microsoft".
Whether this ends up being the strapline throughout the ads remains to be seen. The chief envisioning officer told Marketing: "|'m not in the inner circle, but all I know is that the sense of anticipation inside is huge. We're being told to expect wonderful, wonderful things, and not in a Rolling Stones, 'Start Me Up' kind of way. This is a big, big deal."
To emphasise his point, Coplin said in the UK, the ambition of the marketing drive is to reach more people than the London 2012 Olympics.
The global launch of Windows 8 will include an advertising campaign in 42 countries, including the UK and US. A roster of agencies include Crispin, Porter and Bogusky which led in the US, and JWT in parts of Asia and South America. Activity will include TV, print, banner ads, outdoor posters and branded-entertainment.
Coplin's bullish comments follow Microsoft reporting a 22% fall in quarterly profits last week, having deferred some revenue ahead of next week's releases of its Windows 8 operating system and its latest version of Office.
Net profit for the three months to September fell to $4.47bn (£2.79bn), from $5.74bn a year earlier, and total revenues fell 8% to $16bn.
Follow @DurraniMix