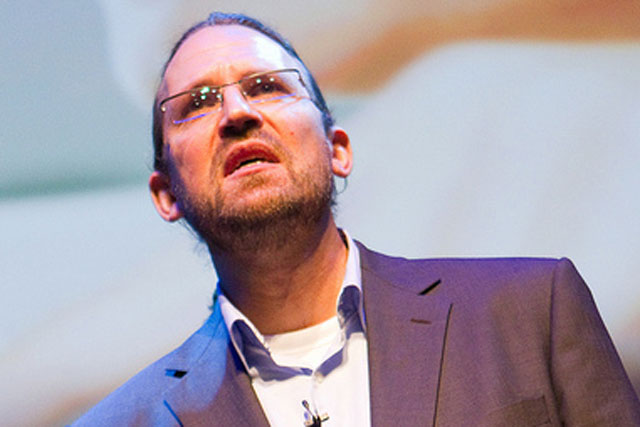 Speaking at the Internet Advertising Bureau's Engage 2012 conference in London today (25 October), Coplin explained that with certain technological trends. and the rise of social, we have moved from the era of the worldwide web, to the "web of the world".
He explained that unlike the worldwide web, which consumers revolve around, the web of the world, revolved around the consumer and "brings things to us based on where we are, what we are doing and the context of what we are trying to do".

Coplin said: "We think this subtle change can be transformative in the sort of services and things you can build for your clients."
He explained that the world of the web was comprised of the web of knowledge, web of people and the web of places and "no longer about flat text files and HTML."
"Thanks to our friends at Facebook and Twitter, they've delivered us a world were we understand the relationships that exist between people. We have a web of people now, which is fundamentally important and will transform the way we use the web."
He used the example of search to explain his concept of the web of people, saying that delivering relevant results was no longer enough.
Coplin said: "If I do a search for sushi, any good search engine will tell me the nearest restaurant – that's just relevant. It doesn't tell you which is the cheapest, the worst, the best. It's no good to me."
He said that consumers needed a human signal, which was not just about relevancy, and that search should be powered by relationships with people.
Discussing the web-of-knowledge concept, he said: "We've lived in a place where the web is culmination of our knowledge.
"Who would have thought if you go back to the 90s, in 14 years' time, the pinnacle of our achievement is a text-based database that has been created and curated by amateurs and enthusiasts – what an incredible resource that is."
Microsoft has received criticism in recent weeks from advertisers for making 'Do Not Track' the default setting on its new Internet Explorer 10 web browser, which some worry will damage the online advertising sector.
While Coplin did not comment on this subject directly, he said that technology companies, clients, agencies and regulators needed to "change the dialogue" when it comes how they used consumer data for advertising purposes.
He said: "The more we use data and use machines and algorithms to make sense of that data, the more dangerous it becomes.
"We at Microsoft think this a pivotal moment in our history, where we need to change the dialogue and change the way we take and use this information on our users.
He said if the industry did not work together to do this, the "fragile trust relationship" that existed between consumers and brands might break.
"We can't afford to do that," he warned.
Follow @shearmans