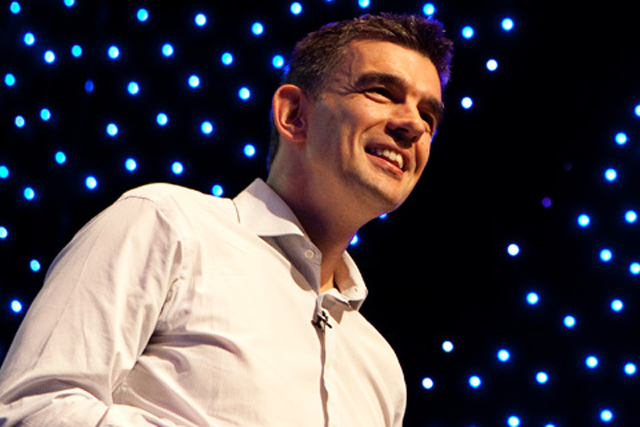 Repeating what he said to agencies and brands at YouTube's Brandcast event last Tuesday (8 October), Brittin boasted that the video platform "is bigger" than ITV among the sought after 15-34 demographic. YouTube claims to have a wider monthly reach in the age group than ITV.
In a bid to show the scale of Google's video platform in the UK, Brittin said 45 million hair and beauty videos are watched on YouTube every week, while on mobile, people spend 25 times more time watch watching YouTube than iPlayer or anything else.
In among demonstrating, with varied success, Google's new products, Brittin used his session to remind the 800 executives from brands, agencies and media owners about the achievements of the British digital economy, including inventing computers and the world wide web.
Brittin said: "The internet economy is bigger in the UK than anywhere else. It is a £150 billion internet economy. It is growing at 10 per cent or more per annum. It's forecast to grow 10 per cent a year for the next four years.
"The internet economy in US and China are both forecast to grow less fast than the UK internet economy. That's all about buying things online. That is powered by consumers. Fifty per cent of that is consumer online spending. But it's also driven by small business."
At IAB Engage last year Mark Howe, the managing director, agency operations for North and Central Europe at Google, hosted a live Google Hangout with the Cambridge Satchel Company.
Julie Deane launched the company from her kitchen, employs 100 people and has just announced a collaboration with Vivienne Westwood.
Speaking about the Cambridge Satchel Company, Brittin said: "This is the kind of example of the sorts of business that are growing fast and exporting and providing jobs and services.
"Small businesses in the UK that are online are growing between four and eight times faster than those that aren't and exporting twice as much as those that aren't.
"There is a really powerful opportunity for that. We are world leaders at this. The internet there for prosperity."
Brittin also echoed comments made by Eric Schmidt, the executive chairman of Google, at the Edinburgh International Television Festival in 2011, lamenting the fact that UK schools stopped teaching children how to code and started teaching them how to use software.
Things are changing, however, and Brittin cited the success of the Raspbery Pi coding computer, which is "made in Britain and has sold a million already".
Ending on a positive note, Brittin said: "We are great at original content. We're great at advertising. We're great at retail. In a world where can reach 2.5 million people already, and will be able to reach 5 million soon, all of us have an opportunity to be bold."