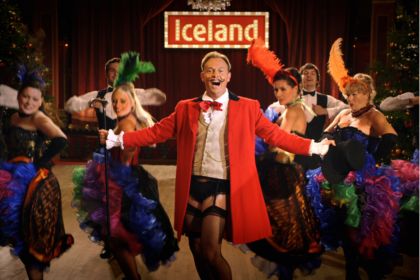 The ads, created by Beta, will first be seen on Sunday (14 November), when the show returns for its eighth outing on ITV1.
Donovan will feature in the creative alongside the 16 "faces" of Iceland – mums who were selected to reflect the Iceland brand.
They were first seen in the recent autumn campaign that showed the mums waited on – to their shock and delight – by ex-'Neighbours' star Donovan. Subsequent ads will follow a similar theme.
For the 'I'm a Celebrity' show, sponsorship idents have been created by the Tom Reddy Agency. Media planning and buying is being handled by MediaCom.
These idents will feature the journey the mums have taken since becoming ad stars, and show a series of "star moments", which initially seem to be celebrity situations, but are revealed to be typical family scenes.
In one ident, Victoria Toulson from Ashford, Kent is shown pulling back what appears to be a theatre curtain and taking to the stage. As the camera pulls back she is shown to be playing hide and seek with her family.
In another, Bristol mum Ellie Taylor appears to be having a professional make-up job, but is revealed to be having fun with her young daughter.
Donovan is the only 'I'm a Celeb' contestant to retain their role in Iceland's advertising.
Kerry Katona had been a staple of Iceland's campaigns since winning the show in 2004 but was dropped after drug allegations appeared in the tabloids.

The chain has also used Coleen Nolan in previous ads.