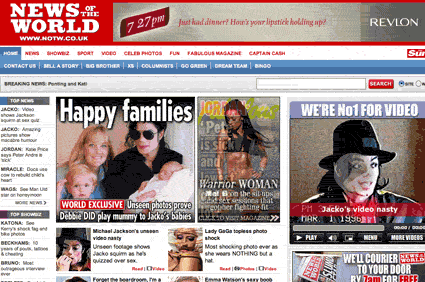 The row broke when the Guardian yesterday claimed that investigators hired by The News of the World had obtained the address data of actors from their union Equity and home details from the DVLA for people whose car numbers they had spotted.
The newspaper claims that celebrities and public figures – among them former deputy prime minister John Prescott, former culture secretary Tessa Jowell, celebrity cook Nigella Lawson, actress Gwyneth Paltrow, comedian Lenny Henry, singer George Michael – had their mobile phones tapped.
The Information Commissioner's Office said in an e-mailed statement yesterday that it had documented "widespread media involvement in illegally obtaining personal information".

"Following a court order in 2008 we made available a copy of some information from our investigation into the buying and selling of personal information, to lawyers acting on behalf of Gordon Taylor," Mick Gorrill, assistant information commissioner at the Information Commissioner's Office, said in the statement.

"This included material that showed that 31 journalists working for The News of the World and The Sun had acquired people's personal information through blagging."

The row comes as Richard Thomas, the outgoing Information Commissioner, renewed calls for greater funding and increased powers of inspection over public and private sector organisations.

Thomas said in the ICO's 2008/09 Annual Report that a "step change" is needed in data protection. "It is wholly unacceptable that the ICO should need the consent of a data controller to inspect its activities," he wrote.

"I welcome legislation currently before parliament to create the power to inspect public bodies. But this remains seriously deficient without a sanction for those who ignore the so-called requirements, and without extending our powers so we can also inspect the private sector."

The watchdog's data protection budget is predicted to increase to around £16m, but Thomas says this is still not enough.

The Crown Prosecution Service today said it would undertake an urgent review of the evidence against The News of the World and The Sun after the Metropolitan Police revealed it did not plan a further investigation of the allegations.