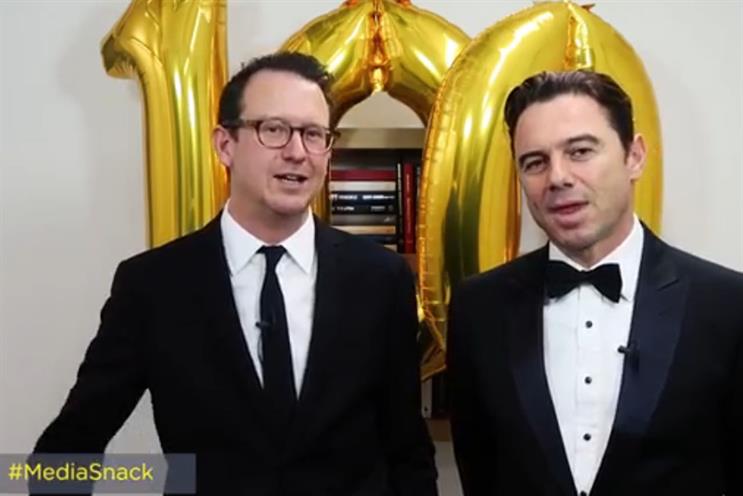 One hundred episodes later, their Media Snack video has become a regular fix for a small but loyal audience of media folk.
There is a simple formula: Indo and Denford chew the fat for 10 or 15 minutes – "just the time it takes eat a sandwich" – on a hot topic of the week.
They often tackle tricky subjects such as the lack of transparency in the media supply chain and the pressure on agencies' business models.
"We know we've stirred WPP's lawyers on occasion," Denford says.
Industry insiders listen to what Indo, the chief executive of ID Comms, and Denford, the chief strategy officer, say because their consultancy manages some of the biggest agency reviews in media.
Sky, Britain's biggest advertiser, is using the firm for its £400 million European review. Deutsche Telekom, Barclays, Ikea and British Gas are among the other brands that have used ID Comms for pitches in the last 12 to 18 months.
In the case of Deutsche Telekom, ID Comms has helped the brand to make radical changes by taking some of its media capabilities in-house and splitting roles between a number of agencies – a big shift when many advertisers have spent the last decade consolidating their media planning and buying.
Indo says: "Brands are taking greater control of their media and more responsibility." That means a "fragmentation of scope" for agencies, according to Denford.
Blokey banter
The ID Comms pair claim they have managed over $10bn worth of media reviews since they quit Carat together in 2009 to launch their business.
The two co-founders "complement each other" as they have "different but overlapping backgrounds", according to Brian Wieser, the top US advertising analyst at Pivotal Research Group.
Denford, 42, grew up in Hackney, east London, and is the more eager and intense of the pair. Indo, 47, is from Blackpool and has a smoother, more laidback approach.
They got the idea for Media Snack from watching US internet entrepreneur Gary Vaynerchuk's AskGaryVee videos.
Indo and Denford mix serious analysis with blokey banter on their videos and there are usually a couple of off-cuts that show the pair larking around.
They ended their 100th episode by inhaling from helium balloons and talking in squeaky voices.
Media Snack doesn't get a huge number of views – some videos have been watched fewer than 1,000 times – but they have an influential audience of marketing, media and procurement specialists.
"It has enabled us to have good conversations with clients," Indo says.
When Indo and Denford are deciding what topic to discuss, "we always ask: 'What does this mean for marketers? What does this mean for clients?'"
They seek controversy, of course, as it's a way to get new business which isn't always fair or balanced in my viewLindsay Pattison, group chief transformation officer at WPP
They use the videos as a marketing tool but it is evident from the on-screen "bromance" that they like making Media Snack.
Denford says: "It's really become a platform to share our passion and interest in media."
They begin researching each episode on a Monday, record it on a Thursday and post the edited version on a Friday.
It is "quite difficult" to keep doing it each week but they have built a studio in their new office in Spitalfields in east London to make filming easier.
The pair like to provoke a debate – for example, using one episode to speculate about whether Accenture might buy Publicis Groupe.
Indo says: "I'm still astonished how few people in our sector have a point of view or they don't share it openly [on big industry topics]."
Wieser says: "They are thoughtful in balancing the needs of marketers and agencies. I always learn something from talking to them."
Mixed views
Agency leaders have more mixed views. Lindsay Pattison, group chief transformation officer at WPP, says: "I like David and Tom. They are punchy. They seek controversy, of course, as it's a way to get new business which isn't always fair or balanced in my view. And we discuss this – a lot.
"But I recognise they have shaken up the process of new business in terms of the work you do for it, so it's more realistic in terms of how we actually work."
Privately, some other agency bosses are more critical about ID Comms, suggesting the pair seem to relish the structural problems facing agencies.
Indo retorts: "I absolutely disagree with the observation that we put the boot into agencies. We're massive advocates of brands paying their agencies fairly and equitably."
At the same time, he says they should be able to "hold agencies to account for their behaviour".
Indo and Denford are clear where their loyalties lie: "Media Snack is designed for the marketer. We are on the side of the marketer."
The ID Comms duo insist they don't use insider knowledge when they talk in public.
"We make a massive effort not to discuss or reference any pitches we're involved in," Indo says. "Our entire reputation is based on discretion and lack of conflict of interest."
Denford says "we're not journalists" but they take an editorial approach when they compile data on an industry trend such as the average tenure of a media agency chief executive and discuss it.
Sometimes their analysis can be far-fetched such as a prediction that Amazon's advertising business will be bigger than Facebook's by 2020. Denford says it wasn't meant to be a precise forecast. It was more about the direction of travel "in 2020 or whenever".
How the bromance started
Indo used to work for Nike as its media director in the 2000s, which is when he first encountered Denford. He was looking to fill a job in Amsterdam but the timing wasn't right for Denford who had just moved to JWT in New York.
After subsequently working together at Carat, they decided to launch their consultancy. ID stands for Indo and Denford.
They could see how "specialist media expertise within brand organisations was being reduced as brands went into a recessionary period" and yet "media was only going to get more complex".
Their first significant win was Novartis in 2010. The work that ID Comms did on that review – on agency performance evaluation, voting protocols during the pitch and setting accountable objectives – "have stood the test of time", according to Indo.
"We've always approached problems in a simple way," he says, explaining how they deal with clients. "We ask, 'What would we do if we were you?'"
As part of that approach, the ID Comms duo like to design and print "pitch books" for the client and other participants, setting out the over-arching brief in detail.
"In a digital age, we purposefully print it off in high-quality material," Denford says, because it helps to set the standard for all those involved..
ID Comms now has a team of about 35 people – a mix of permanent staff and freelancers - chiefly in London, plus there are outposts in New York, Dubai and Singapore.
"We've grown 50% in each of the last two years," Denford says. UK accounts at Companies House show ID Comms made a profit of £312,000 last year.
They rarely miss a PR opportunity and used the 100th episode of Media Snack to throw a party.
Andrew Mortimer, director of media at Sky, says: "They've brought a fresh perspective to the media industry and taken on some of the big, meaty issues.
"They also make a lot of effort to survey clients regularly not just on trust and transparency but also on things like skills and capabilities."
Indo and Denford have shown they know how to build their own brand in media.