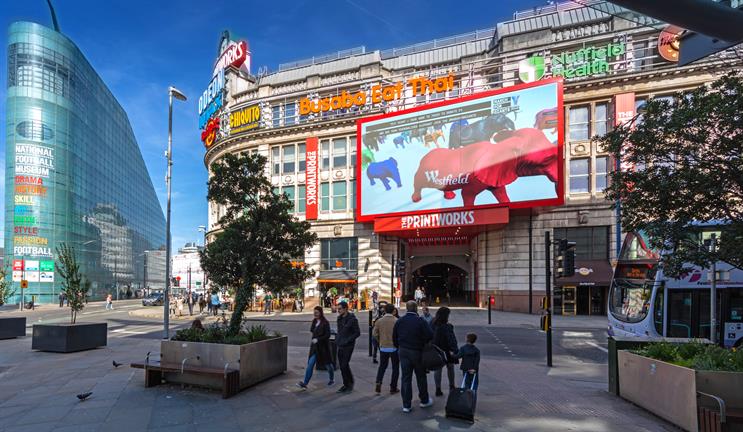 Simply enter Ocean Outdoor's 2017 digital outdoor creative competition, run in partnership with Campaign. You come up with a winning concept, Ocean will help make it reality on its network and Campaign will make you famous. Easy.
The glory starts at an awards ceremony where you will be feted in front of a 500-strong audience and on Britain's biggest (20m x 26m) screen at London's BFI iMax.
We're bringing you inspiration over six weeks from past winners who have seen their entries go from an idea to the big screen. This time: "March for Giants" for the elephant-safeguarding charity Space for Giants.
Will Thacker, creative director at 18 Feet & Rising, talks us through the journey from the idea to the big screen
Tell us about the project
"March for Giants" is the world's first, real-time, fully integrated campaign generated entirely by consumers and brands.
A text and digital donation mechanic allowed individuals and brands to create their own, customised, virtual 3D elephant, inscribed with a personal message or brand colours. Each consumer donation safeguarded an elephant in the wild for one month and a brand donation protects a wild elephant from poachers for life.
Using live, 3D technology, the personalised elephants instantly joined the #MarchforGiants digital herd. Over four days, the herd of 3000-plus marched across Ocean Outdoor's digital out of home media through the world's busiest public spaces.
As soon as one screen went dark, the herd immediately moved to another screen in the world, moving from Hong Kong to the US and to the UK. Uniquely, visitors to the screens could also create and see their elephant join the herd and march live across the screens within seconds of donation. All donors and brands were sent an image of their elephant in each location in real time as they marched across the globe over the four-day campaign, creating further viral spread and awareness.
How did the idea come about?
We were shocked and saddened by the 2016 Great Elephant Census which highlighted that, despite dropping out of the headlines, elephants were in huge crisis.
Poachers, mostly supplying Asian demand for ivory, killed close to 150,000 elephants across Africa in the seven years to 2014, reducing the overall population by a third. This equated to one elephant being killed for its ivory every 25 minutes.
At 18 Feet & Rising, we wanted to do something that would raise awareness of the issue and financial support for the crisis. So we teamed up with African-based charity Space for Giants, and created a campaign to really bring focus and funds to the issue.
What did success look like?
Mass-awareness campaigns often raise little or no actual cash. However, "March for Giants" generated £105,000 in donations, as consumers and brands saw the excellent value exchange delivered by the campaign.
For £5 each, consumers got to own a part of the campaign by seeing their personalised elephant march across the world. For a £10,000 donation, brands not only got to join the fight behind a pressing issue, but received media exposure on the world's biggest and most expensive out of home sites.
The huge buzz around the campaign was also helped by high profile celebrities like Ricky Gervais, Mark Hamill and Elizabeth Hurley joining the herd.
The campaign achieved an incredible 340,000 screen impacts and 38 million Twitter impressions. Space for Giants has now gained a raft of ongoing corporate partners and is planning to make the month of March its campaign focus on an on-going basis.
Some of the donors are now working on special partnerships with the charity, including Maclaren, which is designing a March for Giants buggy whose profits will go to the charity.
Deadline: Aug 25.
Cost: absolutely nothing