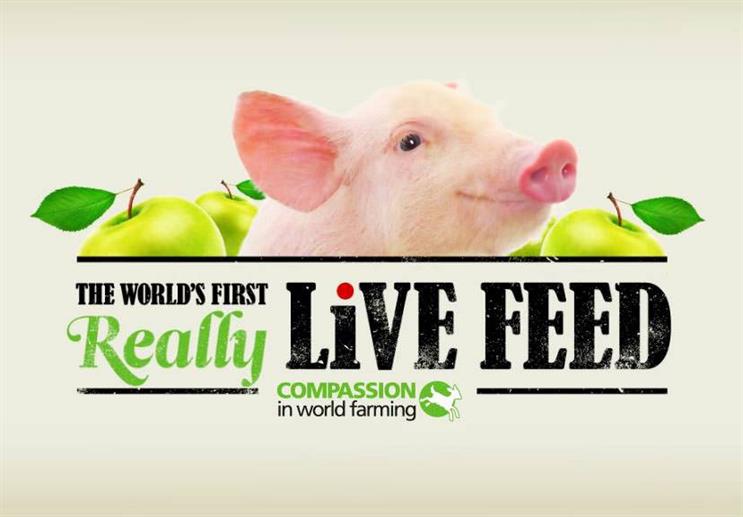 Simply enter Ocean Outdoor's 2017 digital outdoor creative competition, run in partnership with Campaign. You come up with a winning concept, Ocean will help make it reality on its network and Campaign will make you famous. Easy.
The glory starts at an awards ceremony where you will be feted in front of a 500-strong audience and on Britain's biggest (20m x 26m) screen at London's BFI iMax.
We're bringing you inspiration over six weeks from past winners who have seen their entries go from an idea to the big screen. This time: Compassion in World Farming's "The World's First Really Live Feed".
Produced by Ocean Outdoor
Adam Newman, business development director at Elvis, talks us through the journey from the idea to the big screeen
Tell us about the project
Elvis created the world's first really live feed to support Compassion in World Farming's mission - to replace cruel factory farming with free-range methods.
To do this, we brought free-range farming to central London using high impact, interactive technology to show people why free-range methods are best, helping to make people feel good about the food they eat, and where it comes from.
We invited shoppers at Westfield London to feed free-range pigs - live - by donating through their smartphones and linking to a free-range pig farm in Buckinghamshire via Ocean's Eat Street billboard.
An accelerometer in people's phones connected via an app to a feed machine on the farm, allowing people to throw apples directly to the hungry pigs.
How did the idea come about?
Having an already established relationship with Compassion in World Farming, this was a cause close to Elvis hearts. Add this to the opportunity to push the boundaries of the brand, experiment with an ever-evolving platform and create something truly innovative, and we had the perfect opportunity to create some very exciting work.
What did success look like?
The campaign was successful as it was genuinely unique. It was contextually aware and worked in real time to deliver a personalised brand experience that transported consumers from an urban environment directly into the countryside.
We saw a 37% increase in traffic to this small charity's website, and over 5,000 interactions and donations over the days we were live. It used smart, sophisticated technology to deliver a seamless, interactive experience that overcame the inherent logistical compilations of working with live broadcast.
Deadline: Aug 25.
Cost: absolutely nothing