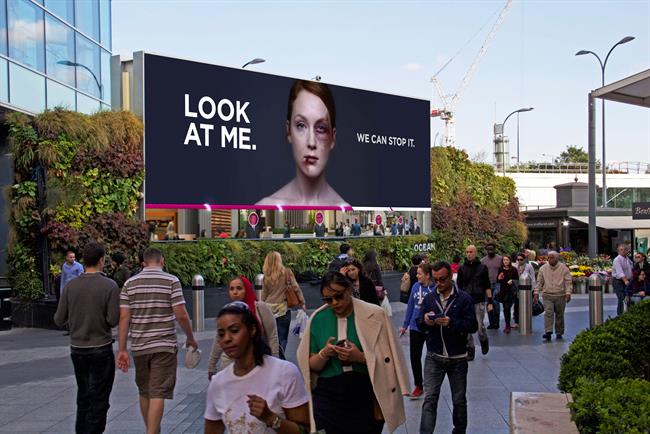 Simply enter Ocean Outdoor's 2017 digital out of home creative competition, run in partnership with Campaign. You come up with a winning concept, Ocean will help make it reality on its network and Campaign will make you famous. Easy.
The glory starts at an awards ceremony where you will be feted in front of a 500-strong audience and on Britain's biggest (20m x 26m) screen at London's BFI iMax.
We're bringing you inspiration over six weeks from past winners who have seen their entries go from an idea to the big screen. This time: WCRS/ Women's Aid.
Produced by Ocean Outdoor
Ross Neil, executive creative director at WCRS, talks us through the journey from the idea to the big screeen
Tell us about the project. We launched a digital out of home campaign for Women's Aid to tackle domestic violence. Digital screens went live across London's Canary Wharf and Westfield and Birmingham's Bullring, showing a woman with a battered and bruised face and a caption that said: "Look at me." The billboards were equipped with facial-recognition technology so the more people looked at them, the more the woman's wounds healed.
How did you come up with the idea? When we looked at Ocean Outdoor's screens and their technical spec, we found that we could use them to deduce when people were walking past and when they were looking at the screen. We had previously supported Women's Aid on a campaign that urged viewers: "Don't turn a blind eye." This seemed like a clear opportunity to make a difference by literally not turning a blind eye to domestic violence.
How did the technology work? Much of the technology was already installed in the billboards, with cameras generating a constant stream of data from passers-by. We created a Flash-based platform that listened to the camera's data, pulled out the face information and triggered a series of seamless video sequences to play when enough faces had been detected. The video sequences, photographed by Rankin, created seamless loops and transitions. It then created the illusion of a live victim on screen that reacted to actions from passers-by. We also used the GPS location to send donation messages to passers-by who had opted in.
What were the challenges? This is the first time the attention of people looking at the digital screens directly triggered an immediate change in the creative. Ocean exclusively operate facial recognition technology on large format Digital out of Home, and this campaign was the first time a gaze tracking element of the system triggered content for live playback in real time.
There were a few custom solutions needed. The video feed from the cameras needed to be converted constantly into a format that supported Flash. We also had to add code routines to dynamically adjust the progress of the ad to take account of busy and quiet footfall periods. With three different-sized screens, a lot of tuning was needed to make sure the face detection worked at the right time.
How was the feedback? The response has been incredible. There have been 86.7 million impressions on Twitter alone. There was also a 2,500 per cent increase in people stopping to watch the ad for more than ten seconds, versus the previous average for the same poster sites.
The campaign won over 30 global awards, including a gold and a silver Cannes Lions.
Deadline: Aug 25.
Cost: absolutely nothing