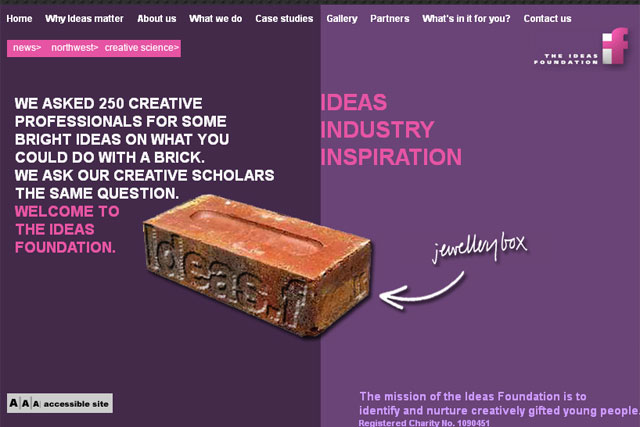 Called the Ideas College, the school will provide alternative provision for students aged 14 to 16 who are not achieving in mainstream education. Selected children will be referred by local authorities to apply to the school, which will take 48 students a year.

The application has been submitted to the Department for Education and, if successful, the school will open in London in September 2014.
David Holloway, chief executive of the Ideas Foundation told Campaign that the school would look for "kids that are turned off by the academic curriculum in schools, but will be inspired by a creative syllabus. Some of these students are super creative with new perspectives, valuable to the creative and media comms industries."

The college will then use its supporters and contacts, which include Channel 4 and the BBC, to steer students into advertising and media apprenticeships, universities and jobs.

If this application is successful, the Foundation hopes to open a similar school in Manchester in 2015.

A principal is yet to be appointed, but Holloway, who will be a staff governor at the school, said they wanted someone with "senior teaching experience who can focus primarily on the curriculum".
Robin Wright, the president of Engine Group and founder of the Ideas Foundation, said they have been "overwhelmed" by the support for their proposals from "business people, creatives, teachers, parents and kids themselves".

Last year, the Ideas Foundation won a place on a national programme run by the independent education charity, the New Schools Network (NSN), which provides support for groups applying to set up schools for pupils at risk of being left behind in the school system.

Of the groups given support by the programme, 90% were approved.

Wright said the support from NSN had been "of huge value".
So far, 200 new free schools have opened or been approved to open across the country as part of the Government's Free Schools programme.