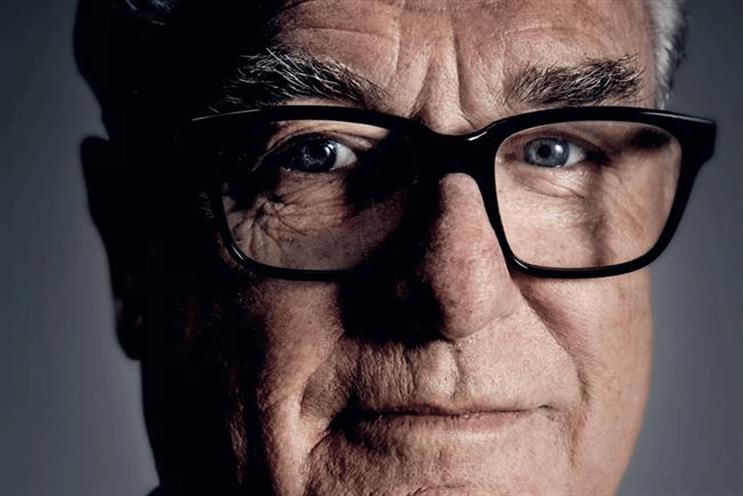 According to Lord Bell, there are two general election traditions that are inviolate. One is that the opposition will always assert that change is good, while the party in power will insist that the country is on the right track. The other is that outdoor was, is and always will be a vital weapon in the political armoury at election time.
While it is hard to argue with Bell's first contention, some might take issue with the second. Particularly at a time when politicians are seemingly in thrall to social media and question mass-media's relevance when election communication grows ever-more personal.
While Bell's views may be provocative, nobody could deny his right to air them. This, after all, is the man who played a key role in a hat-trick of election victories for Margaret Thatcher's Conservatives – and got a peerage for his pains.
Indeed, her first win, in 1979, led to the formation of a new consensus that has dominated politics through to the present day.
But that was then. Today, how does his argument that out-of-home will remain a general election constant stack up against critics' insistence that it can never be as time-responsive or as agile as digital media? Some even suggest the 2015 election will be unlike any previous one because digital will dominate communication as never before – Barack Obama's 2008 US presidential campaign having proved a game-changer.
Bell is unswayed, claiming it was Obama's positive "yes we can" message that catapulted him into the White House – and not social media, which he suggests fragments opinion rather than unites it behind a single vision.
For him, this simply exemplifies the faddishness of politicians when it comes to election-time media. "They're always looking for something they can be sure will work – but you can never be sure," Bell says. What's more, he adds, media fashion is cyclical and, if outdoor is little-used in the upcoming contest, it will only be because the parties have temporarily lost interest in it – not because it isn't effective.
On the contrary, he adds, the world's oldest medium still works much better during election periods than other more modish methods of communication. "Telephone canvassing has never changed anybody's mind, because people vote the way they do for a variety of reasons," Bell says. "And what future does it have if the government is clamping down on cold-calling?"
TV debates are equally ineffectual, he believes: "They are over-rehearsed and success in them never translates into votes. The 'Clegg-mania' generated during the debates during the last election proves it."
So why will outdoor continue to defy the odds at election time? The obvious answer is that it has always been perceived as the cheapest form of mass communication.
But Bell insists that alone is not a reason to use it and derides what he calls the "sheep-like mentality" of trade unions and others who run poster campaigns to support their party of choice just to keep costs down.
The trick, he says, is not just to use outdoor for its own sake during elections but to deploy the ads where they will be most effective, making the messages compelling and involving and capitalising on the enhanced capability digital has given outdoor to respond to the quick-fire election-time exchanges between the political parties.
Moreover, the medium has a proven track record. It worked so well in the 1979 election that Saatchi & Saatchi persuaded the Conservatives to divert a large chunk of their budget into outdoor.
"The great advantage with outdoor is that it allows you to buy a lot of poster sites in marginal seats, enabling you to deliver a national message locally. Nothing else, apart from local press, lets you do that," Bell contends.
Moreover, he suggests, a strong message on a poster may take the heat off a contentious policy: "If David Cameron ran a poster campaign saying simply that he believed in the NHS – and he said it often enough – people would actually start believing him."
Outdoor allows you to buy a lot of poster sites in marginal seats, enabling you to deliver a national message locally. Nothing else, apart from local press, lets you do that.
Used cleverly, posters can also be deployed to destabilise and panic the opposition. Word is that James Callaghan, Labour's prime minister in 1978, was so alarmed by the success of the iconic "Labour isn't working" poster that he postponed the election until the following year.
It was a fatal miscalculation because it gave the Conservatives time to erode his party's opinion-poll lead. Bell smiles as he recalls how the posters were sited close to Labour ministers' offices so they couldn't avoid them: "It was like a rifle shot."
He also cites "Labour isn't working" as a textbook example of an election poster whose success was based on wit rather than abuse. He doesn't expect to see such classy and thoughtful creativity this time around – "It's all been very unexciting and unmemorable so far," he says.
And sloppy too, it seems, after the appearance of a poster for the Conservatives that was ridiculed for using a German road to represent Britain's "road to a stronger economy". Bell says, "It was a stupid error which shows how smart you need to be on posters. If not, you'll get found out and the effect will boomerang on you badly."
Whether or not outdoor can defy its detractors to play a pivotal part in the upcoming election is moot. Bell lives in hope.
He concludes: "If somebody came up with another 'Labour isn't working' or 'Labour's tax bombshell' – and the politicians didn't try to dilute it – it could capture the public's imagination in a way only outdoor can."
In my opinion…
Suzanne Hodgins, marketing director, Outdoor Plus
Lord Bell is absolutely correct in his assertion that digital could be the buzzword of the 2015 election, but it may still fall on out-of-home to tip the balance and influence the electorate.
It has been reported that politicians are turning to social media in order to appeal to the younger demographics. However, digital marketing cannot work in a silo; and Tweets, Facebook "likes" and online forums will not win the election. Private communication can never encourage debate in the way publicly shared communication can.
Digital OOH offers a public platform for the parties to deliver relevant and tactical messages to the largest number of people in the quickest time. Whether looking at building fame and driving conversation around a core message; taking localised messages to constituents; or running tactical communications in an immediate response to news or events, there is no doubt that OOH can deliver.
In fact, digital OOH is uniquely placed to drive electoral engagement in real time and is proven to accelerate online activity. Alongside TV, OOH dominates the media day and research shows people are 33 per cent more alert and engaged in this environment. Moreover, 85 per cent of 18- to 24-year-olds have seen OOH advertising in the past week – rising to 90 per cent of those who regularly use social media.
So why should the parties consider OOH as part of any campaign? First, OOH is scalable and can be optimised to deliver both broadcast and localised communications, so that it's all about the "right conversation in the right place at the right time".
Second, given that politicians today are marketed like brands, OOH has a significant role to play as it is proven to deliver brand fame (second only to TV). This ability is crucial in changing electorate perceptions and behaviour.
OOH has the power to frame the election for voters. It can leverage social media, while staying on-brand. Expect to see social amplification, either via the power of the creative in a public arena or via dynamic feeds, that showcase user-generated (but moderated) electorate support.
Finally, OOH triggers a response. Seventy-nine per cent of people have taken action after been influenced by OOH advertising.Whether the parties rise to the creative challenge remains to be seen.