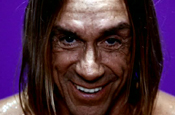 The ad features the former punk rocker claiming that he has no trouble finding his personal documents thanks to his policy with Swiftcover.

But the ASA confirmed today that it had received 12 complaints about the ad.?

A spokesman said: "The crux of the complaints is that they object to the use of Iggy Pop to promote Swiftcover when musicians cannot get insurance with the firm."

He said that a ruling on the ad was expected in a few weeks time.