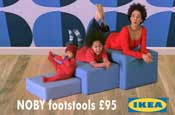 The retailer is currently drawing up a shortlist of agencies to pitch for the account, and has charged the AAR with the brief.
The contract with Danish agency, RBLM, which has handled the home furnishing company's UK advertising since 2005, ends in April.
Ikea has produced iconic campaigns since it launched in the UK in 1987. St Luke's worked on the account for many years, producing the "chuck out your chintz" slogan in the 90s.
Agency.com handles digital development for the retailer and has produced above-the-line advertising since it won the account last June.
Anna Crona, marketing Manager for IKEA, said: "While IKEA is a global brand we feel that it has a special place in the hearts of the UK consumer and we are therefore looking to appoint an agency that can help us maintain our global communication platform at the same time as being able to connect with our UK audience."