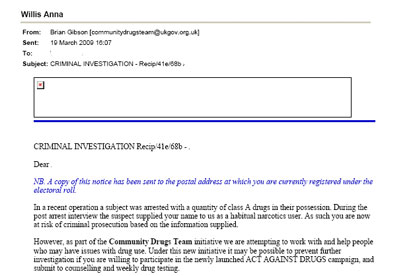 Users were prompted to enter a friend's e-mail address and an e-mail was then sent to the recipient from a false e-mail address: communitydrugsteam@ukgov.org.uk.

The content of the e-mail suggested that the recipient was involved in illegal drugs, had been named in a police interview and was at risk of criminal prosecution.

Further links in the e-mail directed the recipient to the film's website, which stated: "You have just been stitched up by a friend."

The complainant, who received the e-mail at their work address, challenged whether the ad was irresponsible and distressing because it implied that the recipient had been involved in the use of illegal drugs.

The ASA challenged whether the advertiser's approach breached database rules because consent had not been given by recipients to receive marketing via e-mail.

Furthermore, it was seen to be misleading by parading under a seemingly official government e-mail address.

Metrodome Group, the advertiser, apologised that the ad had caused distress to the complainant and claimed to be unaware of any breach of the code of practice. They further stated that they had since amended the ad to explicitly state that it was a hoax e-mail.

The watchdog found that Metrodome had made no effort to obtain consent of the recipient and that the sender's details were withheld, therefore the recipient had no way of knowing how their details were passed on.

The ASA concluded that because Metrodome had not made sure that the recipient was happy to receive marketing from them, the ad was in breach and therefore should not be shown again in its current form.