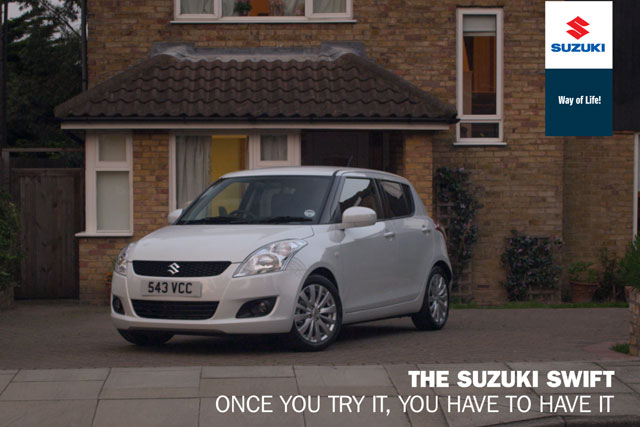 The Japanese marque has sold 10,000 cars for the year to date, pulling it closer to rival brands such as Mazda, Seat and Volvo, but there is still a way to go.
Dale Wyatt, sales and marketing director, Suzuki UK, tells Marketing what advantage there is in sponsoring films, how the digital world has changed purchasing patterns and why other car brands' advertising is "anodyne".
There is a lot of marketing noise in the automotive sector, how do you create standout as a brand?
I get irritated with seeing anodyne Eurotrash advertising that has people sitting in European, very life-stylish settings with swishy cars driving through narrow, cobbled streets, while people sit outside cafes with baskets of fruit. It washes over me a little.
Advertising runs better if it is based on a genuine product truth, otherwise the public will see right through it. Our campaign is based on the core truth that 50% of people that try a Suzuki car will buy a Suzuki – Nike has its "Just do it" call to action, and our new lock up is "Have to have it".
What was the previous Suzuki brand positioning in the UK, and what challenges did you face?
Suzuki has had a brand positioning called "Way of life", based on the concept that all our cars have a sense of spirit that sits within them.
Suzuki is a manufacturer that doesn't just make cars. It makes motorbikes, marine engines and quad-bikes, with a sense of sportiness that runs through the brand. We've been in the UK for about 25 years but we've previously been known for our motorbike models. More recently our market research shows consumers are aware that we make cars but they find it trickier to name a specific product.
Actually, we sell more cars than bikes. However, if consumers can't name our cars it means they don't put us on the shortlist of their top three choices and we don't get the consideration levels we would like. The challenge is to drive product awareness so that we can sell more cars.
Suzuki currently has a market share of 1.2%, how do you create standout in the automotive market, and what are your initial ROI goals for the new campaign?
Our growth is accelerating. The last two months have been significantly higher than our growth year to date. March is up 20% and the last quarter is up 30%. But creating standout is a difficulty for all challenger brands – if you are a car brand with a market share of sub 2%, you are swimming with some really big fishes.
We've worked hard to develop a series of KPIs, but the first place to start is around the soft KPIs for brand awareness and ad recall. We have some vicious growth plans for the future and if we start with those lead indicators we'll deliver the measures that we need.
How are you tackling the changes to consumer purchasing patterns within the car market?
A decade ago, the first place consumers would go to gather information on a new car would be your local dealer. Now, with the rise of the internet, the whole buying pattern has changed. The average buyer spends a much larger period of time digitally grazing, researching and looking at cars prior to making a shortlist.
There has become a whole period that goes before that where people are thinking about the products they would consider for a shortlist. For example, there are 24 choices in the market for a small hatchback car.
Even the most enthusiastic buyer will only shortlist down to three models to look at and the first will be the latest car of the brand that they already drive, which leaves 23 brands fighting for two slots.
The next model will be a safe choice, while the third will be a brand that intrigues consumers – one they have heard about and want to find out more. That's our slot.
Why have you decided to sponsor ITV1 movies? How does it benefit your brand?
Our core audience is 35+ couples and families. Movies are one of the things that families watch together, and it is typically the whole family that influences the decision for buying a family car.
ITV1 Movies shows over 250 films a year, while watching a film is one of the few times a family will sit on the settee together and can be influenced as a group. Over the next 12 months the sponsorship deal will give us an always-on presence.