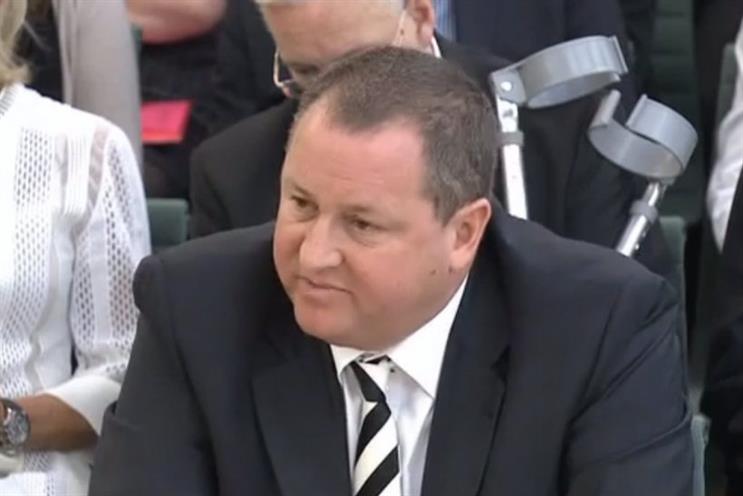 Ashley was summoned to the Business, Innovation and Skills select committee after a Guardian investigation in December found warehouse employees were effectively being paid less than the minimum wage.
Ashley admitted his staff were not paid minimum wage, describing practices such as docking 15 minutes of pay from staffers who were a minute late as "unreasonable" and "unacceptable". HMRC is currently investigating the company over the issue.
Pressed by MPs over whether the practice had actually changed, Ashley said: "As I understand it, yes. You understand, I don't physically do it."
He went on: "I'm not Father Christmas. I'm not sitting there going, 'I'm going to make the world wonderful', I just want to get a balanced view. You have to try and get balanced view, and say, as an individual, would you tolerate that."
Here are some of Ashley's quotes during his grilling by MPs:
On sexism in the workplace:
"[Are you saying] there's no sexual – what do you call it – harassment, within the office, at Sainsbury's? Sports Direct has to pull its socks up, simple as that fellas. [looks at female MPs] Not just fellas, girls."
On being the correct person to conduct a review into Sports Direct's employment practices:
"In some ways, I'm not the right person, because I'm not an expert in every area of employment, not my field of expertise. So yes, there could be other people you say could have been better qualified than me to do it. In the short term, I'd make the most difference."
On being media trained:
"How do you media train me?"
On who was responsible for underpaying employees:
"I honestly don't know is the truth. I don't know when that started. It definitely wasn't a policy that I put in, because I actually don't believe it's fair. If one of my kids went to work somewhere and were fined for being two minutes late, and fined 15 minutes pay, I wouldn't be very impressed by that."
On whether Sports Direct has outgrown Mike Ashley's ability to manage it:
"Probably, a long time ago."
On acquiring BHS:
"I can't resist it, 100% I wanted to buy BHS."
Though Ashley's comments were subject to some derision by journalists watching on Twitter, other observers came to his defence, noting he was a "normal" man who had founded an extremely successful business.
But his frankness is unlikely to have done the brand many favours. Ahead of his select committee performance, a study by the Reputation Institute found the company had one of the poorest reputations among UK retailers.
The RepTrack study measures a brand's ability to deliver on stakeholder expectations, and anything below a score of 59 is considered weak or poor. Sports Direct's reputation score came to 53, and unsurprisingly rates worse as a place to work at 43.2.
Campaign's sister title, PR Week, has analysed Ashley's performance and its impact on Sports Direct's reputation.