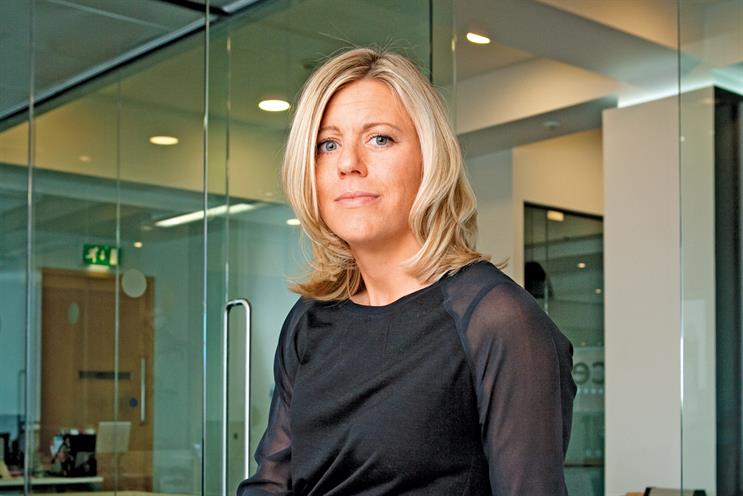 The outcome of the review of the Dixons Retail advertising account, one of M&C Saatchi's first clients, will be a defining moment for the agency.
With a relationship between the shop's founders and the retailer that goes back decades, reputations will be judged by whether it manages to keep the business that so loyally followed the Saatchi brothers out of Charlotte Street and into Golden Square. For Camilla Harrisson, who has just been appointed M&C Saatchi's chief executive, coinciding with the review, this first test of her mettle could not be tougher.
You would assume, then, that Harrisson might be overwhelmed by the task at hand. But she's not. While admitting she's "disappointed" with the review, she says that she would rather it happened now, just as she gets her kitten heels under the desk formerly occupied by Carrie Hindmarsh, whose cool but polished demeanour could not be more different from the Tiggerish but self-effacing Harrisson.
But Harrisson seems the sort of person who doesn't get down about anything. While her appointment to the chief executive role was not the surprise of the year – having acted as the group chief operating officer and the loyal handmaiden to the group chief executive, Lisa Thomas, for the past few years – her background is a different one to the classically trained agency head.
Getting positive feedback for what I'd done at Wacl was gratifying
More familiar on the new-business and marketing circuit than that of the average suit, it's her energy rather than slick account handling that is striking. While she has been on the advertising scene for some time, having started her career in the new-business department at WCRS in 1994, it has always been on the periphery – the friendly, kindly bag-carrier, a bit of a laugh, who was nice to have along but not crucial to proceedings. Not now, though.
To observers – and friends – this transformation from the likeable and eager-to-please also-ran to industry leader with hard decisions to make coincides with a transformation that took place when she became the president of Wacl: "It was life-affirming – I allowed myself to enjoy it and do it my way. It gave me confidence and getting positive feedback for what I'd done was gratifying."
Tough decisions ahead
While her sentiment is genuine, she realises that she was in danger of drifting into what she describes as "X Factor" territory and apologises for her "vomit-inducing" enthusiasm. It's an endearing habit but one that has led some to suggest that her personal reticence that counterpoints her enthusiasm and positivity might make it difficult for her to make the tough management decisions that may be required in rebooting M&C Saatchi's reputation.
But beneath all the jokes, the modest comments and the easy-going nature, there does seem to be more substance than those who assume she has been brought in to be compliant and do Thomas' bidding – a task that the strong-willed Hindmarsh perhaps found unpalatable.
When questioned about management capabilities, the air chills a little as she replies: "I'm quite hard to stop and tenacious." As for her relationship with Thomas, who is a friend, she says that, first and foremost, Thomas is her boss and she is prepared for the tough questions that will inevitably come with managing the agency, whose reputation she wants to "re-energise".
Careful not to criticise her predecessor, she talks about the task at hand in vague and nebulous terms – "bringing back a sense of excitement", "creating an environment to produce great work", "protecting creativity" and so on.
Creative transformation
From the outside, though, the work has started to improve with some notable campaigns for NatWest and Peroni Nastro Azzuro that few thought would have got out of the door just a couple of years ago, which is testament to the leadership provided by the group executive creative director, Elspeth Lynn.
New business continues to be a concern – it has yet to trouble the top-20 rankings on the back pages of this magazine – which is maybe where Harrisson will first focus her attention. But before all that, there's the not trifling issue of keeping hold of the £50 million Dixons account. "I'm not letting it go without a fight," she says. And there's more fight in the energetic and likeable Harrisson than many would first assume.