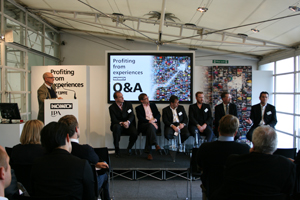 In association with the Institute of Practitioners in Advertising (IPA), the afternoon saw representatives from 3M, Barclaycard, Canon, Ford and Virgin Active Group attend a series of speaker sessions and a Q&A, followed by networking opportunities.
Patrick Reid, chief executive of Imagination EMEA, and Paul Bainsfair, IPA director general, welcomed attendees to the event, which aimed to debate the value of brand experiences.
A line-up of speakers included Joe Pine, co-author of The Experience Economy, who discussed how goods and services were no longer enough and how consumers craved experiences. He highlighted a number of examples, including Starbucks and Nespresso and the way in which both businesses have revolutionised how people drink coffee through experiences and retail theatre.
Pine also explored how customisation allows brands to differentiate themselves and add value, and the potential to charge customers for experiences.
He said: "If you create a great experience, your customers are going to be willing to pay you for that. For experiences that are charging an admission, it can turn marketing from a cost centre into a profit centre. When we create an experience worth having, customers will pay for that."
Orlando Wood, managing director of Brainjuicer Labs - the research arm of marketing agency Brainjuicer - spoke about the behavioural economics and psychology for brands, and how environment and intuition can effect individuals' decisions.
Imagination invited Danny van Otterdyk, head of production group communications, production centre of excellence, at Royal Dutch Shell, and Mark Cameron, Land Rover's brand experience director for global marketing, to give guests an insight into the brands' own experiences and events.
Van Otterdyk explained Shell has created a number of experiences to help shift peoples' perceptions of the brand. This includes its eco-marathon - an event challenging students to design, build and drive the most energy-efficient car - which takes place in the Philippines, Houston and Rotterdam.
Mark Cameron of Land Rover revealed that the company is looking to grow its driving experience offering in the future, which he described as "an emotional experience". He reveled the business has conducted 340,000 global experiences, and has forecast that two million individuals will have taken part in interactive experiences with Land Rover by 2020.
Chris Dobson, strategy director for Imagination Asia Pacific, reflected on the Chinese market and the ways in which experiences are being affected by its culture. He highlighted how experiences will be geared towards an increasing level of upper-middle class consumers, and how China should not be pigeonholed as one market.
He said: "When we talk about it, it is in the singular, in the same we talk about England, Scotland or Germany. The fact of the matter is China covers 20% of the world's population, around 1.3 billion people. Each of its 21 provinces is completely unique, they all have their own history, culture and language."
Paul Simonet, creative strategy director at Imagination, wrapped up the speaker line-up with a discussion into measuring experiences, as well as how experiences can be used to create retail theatre and used as an educational tool.
Comment below to let us know what you think.
For more in-depth and print-only features, showcases and interviews with world-leading brands, don't miss the next issue of Event magazine by subscribing here.
Follow @samedwardsevent