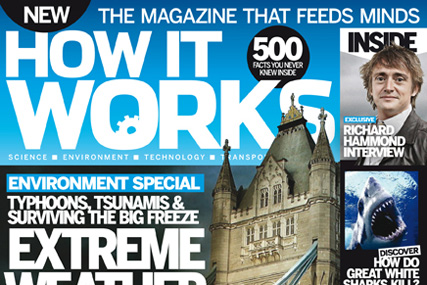 Science and technology title How It Works will be published monthly from 29 October, backed by a six-figure marketing campaign.
Launch circulation will be 45,000 copies and it will eventually have a print run of up to 75,000 copies.

How It Works' editorial content will span science, technology, space, history and the environment and will feature articles on issues such as "freak weather" and "what's a black hole?"

It is looking to tap into consumers who watch shows such as QI on TV and are curious about science and technology.

How It Works, which will primarily go up against BBC Focus, is aimed at a male ABC1 demographic between the ages of 25 and 44.

Priced at £3.95, each issue will run to around 100 pages and be sold at outlets including WHSmith and independent newsagents.

How It Works will have a six-figure marketing budget, which is likely to run across radio, online and outdoor.

The 15-year-old BBC Focus, prev-iously called Focus when it was acquired by BBC Magazines from NatMags in 2001, has proved successful for the BBC.

Its latest circulation was 68,414 between January and June, according to ABC figures.

Imagine Publishing produces 20 magazines and runs 30 websites across the computing, entertainment, motoring, photography and video games sectors.

Among other magazines, it publishes 3D Artist, Digital Camera, PowerStation, Smartphone Essentials, Linux User and SciFiNow.