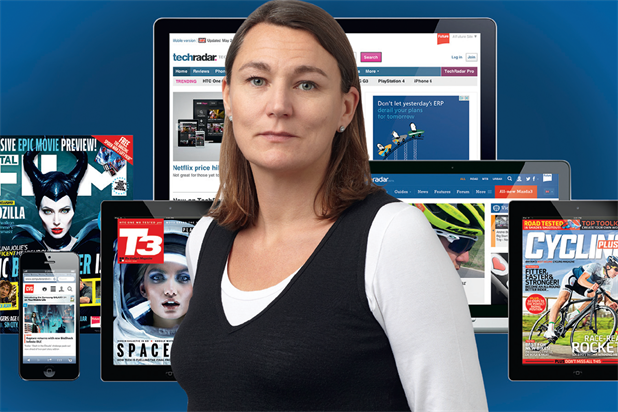 More than 10 of Future's brands, including the websites Bike Radar and Cycling News and the craft brands Mollie Makes, Simply Crochet and Simply Knitting, will be sold to Immediate, which publishes titles including Radio Times as well as specialist titles.
The brands represent between 20 andf 25 per cent of Future's revenue, Future's chief executive Zillah Byng-Maddick said, in a deal subject to shareholder approval and set to complete in the summer.
Around 130 of Future's staff will move to Immediate as a result of the sale.
The move comes after Future embarked on a dramatic global restructure to turnaround its finances, following profit warnings earlier this year.
Mass redundancies loom
The publisher has entered a consultation process and will make up to 170 redundancies from its 850 staff, when the consultation concludes at the end of June. Byng-Maddick said the business model, which spans specialisms including technology, gaming as well as crafts and sport "wasn't working hard enough".
Future's losses deepened to £2.3 million for the half-year to March 2014, it was revealed this morning.
Byng-Maddick said Future needed to focus on its core technology and gaming specialisms, and the sale of the sport and craft titles was "a strategic decision as opposed to a financial decision, but clearly it helps to strengthen the balance sheet so we're pleased to have the money."
"We must think about where we see our core revenue growth coming from in the future. I didn't see a role for our craft assets: they don't fit neatly with our current customer profile. We've got some fabulous magazine brands in cycling, but they are still 70 per cent print."
She added: "I see one of Future's core strengths as how it monetises consumers. When I looked at the cycling titles I saw a harder path [to do that] than with the rest of the portfolio. We were approached about the cycling assets and were very pleased the with offer we got.
Future's sport titles, which are focused on cycling, reach over 4.7 million unique users a month and the print titles have a monthly combined circulation of over 100,000.
Tom Bureau, the chief executive of Immediate, said: "Immediate's strategy is to create the leading special interest content and platform company, and these brands fit with our vision. We are developing our business around leading content brands, highly-engaged specialist communities, and multi-platform commercial models.
"Backed by Exponent Private Equity, we have a track record of investing in our brands, around content and platforms, and we are excited to be welcoming the new teams to our company."