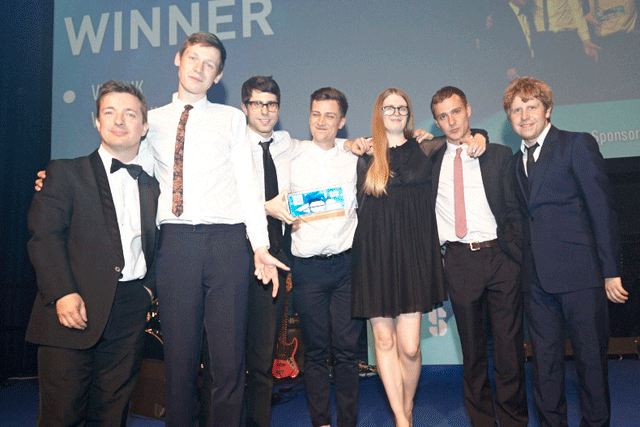 A total of 11 publishers and digital agencies shared the trophies across 18 categories at a spectacular ceremony at The RoundHouse in London.
Immediate Media took three awards for Best Digital Marketing Campaign, Best 2014 Launch and Best use of Mobile.
Carnyx Group, Dennis Publishing, Hearst Magazines UK, Global Radio and Vice Media all scooped two awards each with AOL, Digital Spy, IPC Media, Sigaria and Unruly Media also amongst the winners.
The AOP's two flagship awards for the Best Digital Publisher in the Consumer and B2B spaces went to Dennis Publishing and Carnyx respectively.
The judges paid tribute to both company's investment in their staff and the innovation they have showed over the last 12 months to grow their portfolios.
Jonathan Kitchen of Adnostic and Dennis Publishing won Best Digital Commercial Individual, while Cosmopolitan's Kate Lucey took home the award for Best Digital Editorial Individual.
The Drum and Vice UK took away the Best B2B and Consumer Editorial Teams Awards, respectively.

Other category winners are as follows:
Digital Commercial Team 2014: Hearst Digital PurePlay Team (Heart Magazines UK)
Digital Advertising Operations Team 2014: Unruly UK Operations Team
Best Research and Insight Project 2014: The Native Age (AOL UK)
Best Integrated Media Project 2014: XFM and Bulmers (Global Radio)
Best Launch 2014: Radio Times – Discover TV (Immediate Media)
Best use of Mobile: MadeforMums & Heinz Baby (Immediate Media)
Best Commercial Partnership 2014: XFM and Bulmers (Global Radio)
Best Media Technology Partner 2014: IPC Media and Radium One
Best Digital Marketing Campaign Innovation: Subscriptions Marketing – Immediate Media
Best Use of Social Media 2014: Vice UK (Vice Media)
Best Consumer Website: Digital Spy (Hearst Magazines UK)
Best B2B Website: Procurement Leaders (Sigaria Ltd)

Tim Faircliff, AOP's executive chairman, said: "On behalf of the AOP I want to offer my congratulations to this year's AOP Digital Publishing Award winners.
"The entries received this year were among the best and most competitive the AOP has ever seen, which means being among the winners is a tremendous achievement."
Tim Cain, AOP managing director, added: "Congratulations to all our winners. This year's awards ceremony was a chance for the entire digital publishing community to come together and truly celebrate the great shape our industry is in.
"We're all already looking forward to next year's event and an even stronger selection of entries."
This year's awards included two new categories, Digital Commercial Individual and Digital Marketing Campaign Innovation.
Tim Cain, the managing director of AOP, said: "The entries to this year's awards were amongst the strongest the AOP has ever seen – a true reflection of the strong position the online publishing industry is in."