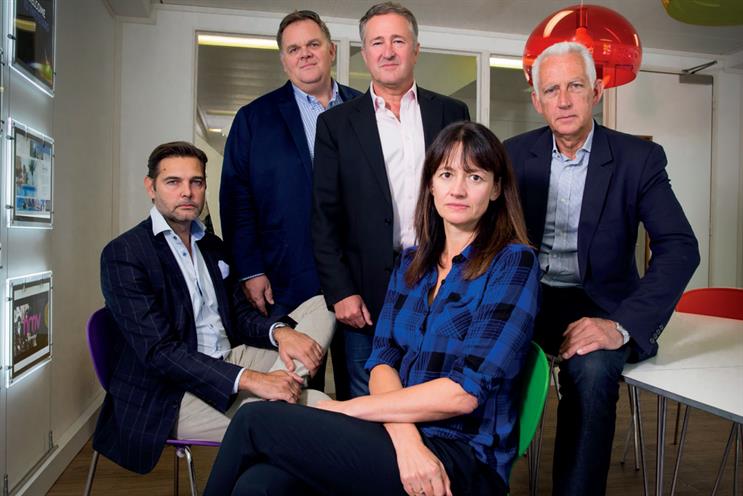 When Blackwood Seven launched in the UK at the end of last year it was regarded with some trepidation by the big media agency networks. The agency's algorithm-based predictive technology seemed poised to challenge their business models.
However, just months after it appointed Elliot Parkus from Arena Media to be its first UK managing director, the agency has decided to shut down its UK office, a move that seems incongruous given the rising interest in AI within the industry.
Outside the UK, Blackwood Seven has been making cuts in a number of markets, including Germany, as it has struggled to grow in the way it expected.
The UK closure has been described by the agency as a "restructure" and that Henrik Busch, one of Blackwood Seven's co-founders, "will continue to service the UK".
Carl Erik Kjærsgaard, the chief executive and a co-founder, said Blackwood Seven was still growing at 25% globally. He said the reasons for its closure of the UK office was the discovery that it was doing better by selling its media planning platform software rather than media buying.
As a result, the team could operate just as well out of Copenhagen without the need for many people on the ground in different cities.
Industry observers have noted that, in truth, Blackwood Seven could be "ahead of its time" as AI is still nascent.
Ed Cox, media partner at Above+Beyond pointed out that there might have been a "mild case of Gartner hype curve at play here" as there's no doubt that AI and machine learning is transforming marketing.
"It's a shame Blackwood 7 couldn't crack the UK market – planning media to business outcomes rather than reach and frequency should be the norm for this industry; perhaps they are just a little ahead of their time," Cox said.
Others said that the agency's model may have worked in Denmark which has a relatively simple media market, but the UK is far too sophisticated.
Whatever the reason, it would appear that the agency has not made the splash the industry assumed it would. Is AI, therefore, not quite the wave of change expected?
---
Rick Hirst
Chief executive, Carat UK
I can't see a circumstance where AI won't become an integral part of our industry. It's potential ability to take repeatable, high volume and low value tasks and deliver them at speed should be embraced. This will allow our people to focus on what people are brilliant at – clients, their strategic business challenges and relationships. Blackwood Seven's launch story might have sounded compelling but they quickly realised that a complex and mature media marketplace like the UK requires navigation and connections that a clever algorithm simply couldn't displace.
Julie Langley
Partner, Results International
Longer term, AI will transform media agencies and have a major impact on the marketing industry more broadly. AI excels at automating and improving decision-making based on large datasets. That makes it a natural fit for media buying which remains relatively labour intensive.
Yet transformational technologies can often be slowed down by existing business models and attitudes. In the early dot-com boom many businesses failed or had to make major corrections to fight another day. And this may well be the case with Blackwood 7 whose self-serve software could be too much too soon for advertisers who are just not geared up to work in this way.
But ultimately, not having an AI strategy will be akin to not having a mobile or an online strategy and agencies will have to get their houses in order.
Matthew Heath
Chairman, Lida
Innovations suffer from us over-estimating their short-term impact and under-estimating the long term. AI brings to mind the advent of digital - massive claims, confusion of meaning and a rush to grab a piece of a new El Dorado. We endured a plethora of digital planners, digital conferences, digital speak and some digital disappointments. Yet now digital is just a part of what we all do. For a while AI will seem to be a unique discipline, but over time it will become just part of the armoury for data scientists, customer strategists, media performance specialists and the rest of us. Its impact will be profound, but just part of a new normal.
Victoria Foster
Commercial Director, digital, Bauer Media
It is not about overstating the impact of AI as we all believe that AI should play a huge role in the future as it could ultimately deliver better brand results and consumer experiences. Indeed, Accenture predicts AI could double annual economic growth rates by 2035 so despite Blackwood Seven's closure the opportunity still remains. AI will allow brands and agencies to create clear, data-driven strategies to further underpin storytelling. It helps understand consumers' complex user journeys along different channels, using programmatic and branded content to deliver a dynamic, personalised experience.
Chris Pearce
Chief executive, TMW Unlimited
Yes of course it has. But this overzealous reporting of AI and its impact is entirely in keeping with the way we all tend to think about the future. As Bill Gates so memorably pointed out, we overestimate the change that will occur in the next two years and underestimate the change that will occur in the next ten. Blackwood 7's premature closure of its UK office has no bearing on the phenomenal impact AI will most certainly have on the UK's agencies over the next ten years. But rather like the secret to all good comedy, timing is everything.
Rachel Forde
Chief executive,Spark Foundry UK
No. We shouldn't underestimate the impact AI will have across all industries and life in general, with technology progressing at a phenomenal rate. Weaving AI into media plans isn't the right answer for all brands, but more of our clients asking for guidance on how to best prepare for an AI future and how this will affect the way we establish meaningful connections with consumers. At Spark Foundry, being future focused is what makes up our DNA - but equally, we don't forget what's at our core, which is strategic expertise in media planning and buying