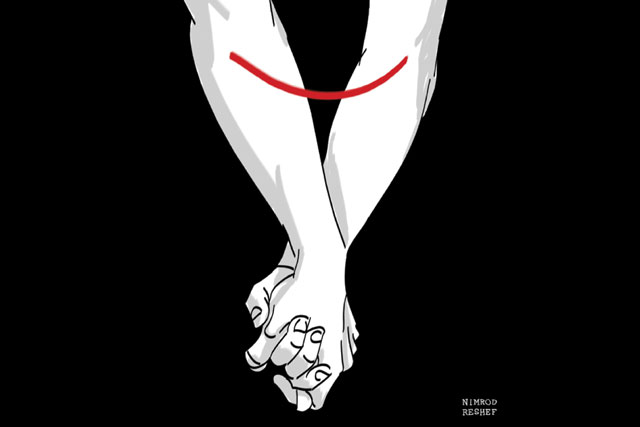 Brief 01: SYMPATHETIC EMPATHY
Jorge Bryson & Victor Luna / Garwich BBDO, Peru
Illustration / Reuben Rosh
Just as in a hidden camera show, a person will pretend to be in danger asking bystanders for help. After being helped, this person will give a flyer to the one who helped him. The flyer will invite the "hero" to take action in the Gaza strip situation, asking for a written petition for the sake of peace between Israel and Palestine. After this, the production staff will reveal themselves and congratulate that person for helping both nations take their first step towards peace.
Brief 02: FACTORY OF PEACE
Danielle White
Illustration / Alon Braier
On a contested border or territory, build a factory. This factory will be the work place and communal gathering place for Palestinian and Israeli women, who will work side by side. Together, they will harvest produce local to the land (such as olives) and package it. Rather than the packaging declare that it's "Made in Israel", it will be called "Made in Peace". Why only women? Women rarely begin a political feud or a war, but always bear the burden of their children and husbands being at war. The money generated by this venture can be directed to local micro-funding. It will be used in agriculture (to allow further harvesting of the produce) and in education.
Brief 03: PAINTING THE WALL
Richard Tseng / Markham / Canada Illustration / Avi Katz
Paint the Israeli side of the wall with the real faces of all Palestinian children. Paint the Palestinian side with the faces of all Israeli children. When one side is heading through, they can't avoid seeing the pleading eyes of the children from the other side watching them. The faces of children who die will be crossed out on the wall.
Brief 04: BANDS AGAINST WAR
Hamed Sinno / Lebanon
Illustration / Yuval Robichek
Take young, popular bands from both sides of the war and get them together. Make them the right bands: young people who for some reason know how to address other people and touch them. People listen to musicians.Get them together and have them create music against the war. Think of what the Beatles did.
Brief 05: SCHOOL OF PEACE
Mirna Nogueira / Brazil
Illustration / Alice (alias) Gorohovsky
Build a school where 50% of the students are Palestinians and 50% are Israelis. The school will be built in the middle of the area in conflict, and the teachers will be the best of both sides. The only way to overcome hatred and bring peace is to teach tolerance.
Brief 06: TUG OF WAR
Alice Bottaro & Francesco Basile / Italy
The only fight in the world that leads to a truce:2 teams, 150 members each. For 24 hours, 7 days a week, they have to pull a rope. It doesn't matter who wins, the matter is to make it last.
Brief 07: PEACE CAPITAL
Aditya Anupkumar / Y&R / India
Illustration / Teddy Goldenberg
Build the Museum of Man in the center of Jerusalem. Make Jerusalem the center of human hope, rather than religious angst.
Brief 08: THE CHALK DOORS
Victor Keiti / Getz Comunica / Brazil
Illustration / Boaz Sides
The idea is focused on people from both sides of the conflict who can't stand this war anymore. They would be given pieces of chalk and invited to draw their own door on the Israeli Wall and tell the cameras what it represents.
Brief 09: INVENTED ENEMY
Peter Hvid / Blue Hive / UK
Illustration / Jonathan Lax (YONIL)
Stage an alien invasion, simultaneously taking control of both Israeli and Palestinian territories in a threatening fashion. History proves that a common enemy often unifies divided groups.
Brief 10: THE FLYING DISCS
Radio FreeBabylon / USA
Illustration / Amir Orbach
If you are a Palestinian in possession of one of these discs, you are encouraged to find an Israeli to play with. If you are an Israeli in possession of one of these discs, you should play with a Palestinian. Start at the beaches of Tel Aviv with a group you know. Publicize it on YouTube. Distribute discs at malls, at restaurants, in colleges and in public spaces, especially parks. Find two well-known debaters from both sides and show them playing instead of arguing.
Brief 11: FREE COUPONS
Roi Holer / USA
Everybody likes free stuff, right?- Damn right!2. And let's say I'd offer you a coupon for a free slice of apple pie…- Mmm… apple pie.3. But what if the free apple pie is an hour's drive away?- ME DON'T CARE!! ME WANT APPLE PIE!!4. See? You'd do anything for a free apple pie! Even cross a border or two… So basically, what I'm saying is give both sides, Israelis and Palestinians, a coupon book with tons of freebies and treats, redeemable only across the border, and they'll come a-runin' for more.
Brief 12: MUTUAL BLOOD
Royer Jean-Christophe / BETC Paris, France
Illustration / Nimrod Reshef
Idea also submitted by Ben Drummond and Tristan Williams, Iris, London Organize a huge blood transfusion operation between volunteers from both countries. I just hope that there are many volunteers...Would you still kill someone who's got your people's blood inside them?
Brief 13: FORGIVENESS MATERNITY HOSPITALS
Ann Laure Naumowicz & Amine Raise / Cossette / Canada
Illustration / Miki Mottes
Create a big outdoor screen on each hospital, which will let everyone know how many births have taken place on the other side. These children, born in the name of peace, could alleviate the burden of hate.
Brief 14: PEACE DIARY
Victor Gutierrez de Tena / Spain
Peace diary is an idea based on collaborative social issues. It is an opportunity for two people who live and suffer the conflict to explain what actually happens, the day-to-day life and the real situation, without extremes or exaggerations. Two stories, written by an Israeli and a Palestinian, each representing a people. This opportunity will make headlines, and it will be shared with the world through a book which will be free and open to the public, a book where two stories on the same conflict coexist.
Brief 15: BIG MARRIAGE
Raina Rocha / Miami Ad School SP / USA
If there is something that can bring people closer, it is marriage. We want people from both sides to get married to the peace process. Their vows will be printed on a special ring that will be sent to them.
We'll also have special online couple therapy sessions where people can express their opinions on how to improve the situation.
Brief 16: THE NURSERY OF LOVE
Julien de Preux / Cossette / Canada
Race, color, religion, and nationality are of no importance to babies. So we create, at the border of Israel and the Palestinian Authority: the Nursery of Love. Babies meet early on and grow up together.
They create strong and very special bonds. Often, they become great friends. Sometimes, they become husband and wife. After years and years and generations of children growing up together — hate disappears.
The heart wall is there to make the nursery safe for the children.
And so adults, with all their prejudice, won't discover the Nursery of Love's secret.
Brief 17: The Marmite Theory
John Griffiths / UK
Illustration / Mirel & Adriana Goldenberg
Ten years ago I met Edward de Bono, who explained to me that he had a simple solution for the Middle East: Marmite. Too little zinc in the diet makes you short tempered. Marmite is full of zinc. If you could get enough people to eat Marmite on toast, it would reduce aggression levels to well within the global average.
Forgive my inner editor — I thought he was wrong then and I still do today. But the leap wasn't wrong. That's how far we're going to have to jump to crack this one.
Brief 18: OUT OF THE BOX CONFLICT
Vikram Oberoi / Lock stock and Barrel films / India
Illustration / Gal Shkedi
Have the Jewish and Palestinian leaders form a team to solve the problem in Kashmir. Working as a team and looking at similar issues without their conditioning kicking in will create an openness of mind and approach.
Brief 19: PEACE TV
Mirna Nogueira / Brazil
In the WE WORK FOR PEACE project we created a seal that can be used by companies on their product packaging or in any part of their communication. The seal works as a proof of social responsibility or quality. Companies gain the right to use the seal only after proving that they contribute to projects that promote peace or maintain such projects. In addition, a campaign encourages people to give preference to products with the seal, adding value to the companies' behavior, which consequently reflects on growth in their sales.
This means that more companies would be interested in creating ways to get the seal, contributing to a chain of projects in favor of peace.