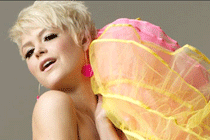 The event, which ran from 29 - 31 May, featured the first public appearance of model Katie Price after her much publicised split with husband Peter Andre. It was also at the centre of transport failures, which caused 'serious problems' for the East London venue.
Total sales at the show reached £3.3 million despite a general downturn in the UK economy. Some 97% of visitors were said to be female.

"As the nation tuned into the weekend's FA Cup Final, the UK's fashionistas left husbands and boyfriends at home watching Chelsea and Everton battle it out, leaving them free to concentrate on the task of the day - shopping and pampering; combined with the fantastic weather which tempted visitors to the idyllic Thames-side location," said a Clothes Show London spokesperson.

For further coverage of the event see July's issue of Event.