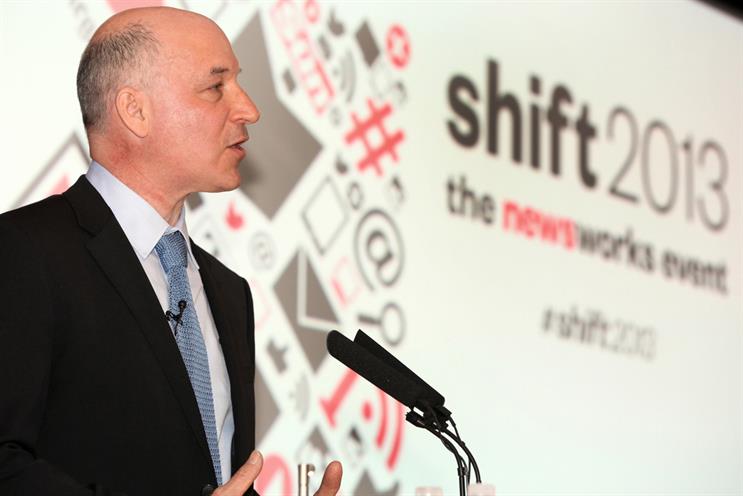 "I do think that we must, as an industry, take the best ideas from wherever we find them," Daily Mail and General Trust's chairman, Lord Rothermere, said, in an observation that seemed to encapsulate the mood at Newsworks' Shift 2013.
He credited Mail Online's runaway success to the principles of a "global newspaper" espoused by The Guardian's editor, Alan Rusbridger: "We looked at that and thought, actually, that's cool."
For an industry usually defined by its tribalism, such a candid address by Rothermere highlighted the benefits of sharing ideas. The British Library seemed an appropriate venue for an industry steeped in tradition to begin any new knowledge exchange.
Rothermere expects new commercial opportunities to come from harnessing the data from the Mail Online juggernaut, with increases in computer processing power enabling users to be targeted with "presumptive advertising" around tailored content.
Recent developments had conspired to give the event added relevancy, with the question of paywalls never far from the debate.
Mail Online will remain free "for the foreseeable future", but Rothermere created a stir when he casually added: "In due course, I think we will start experimenting with a freemium model." Do not expect this to impact the main site, where expansion overseas will continue to set the agenda.
Off stage, Tony Gallagher, the editor of The Daily Telegraph, said he expects the new metered approach to be a "moveable feast" in the months to come.
He stressed the need for newspapers to adapt quickly in order to survive. The statistics said it all: 75 per cent of his newsroom is now website-only, creating 600 articles a day (up 50 per cent in the past year alone), including 25 picture galleries and 30 blogs.
Shift 2013 also provided the first public outing for Trinity Mirror's chief executive, Simon Fox. The Mirror has opted to eschew any kind of paywall, at least "for the moment", while distinctive content is being developed. So reach is the name of the game for Mirror.co.uk – expect more multimedia content and the pooling of sports reporting and other verticals from across its brands.
Fox used his first industry address to suggest the current metrics to measure "newsbrands" are not fit for purpose. Why publish circulation monthly for nationals and six-monthly for regionals when TV viewing figures are updated within a day or two?
He also attacked "the lack of rigour around the language of digital", questioning why monthly digital figures are still quoted compared with daily print circulations and why they are not de-duped. Even National Readership Survey Padd data, he noted, excludes the "important mobile and tablet readers".
The baton was later picked up by Vanessa Clifford, the former Mindshare press chief turned Newsworks strategy director. She said that, from experience, agencies can get caught up in trading models and how much changes might cost them, preventing metrics from progressing.
No-one could recollect Newsworks in its former guise ever attempting such an event, and the consensus among the 250 attendees was that it was long overdue.

More comment on Newsworks' Shift2013 here.