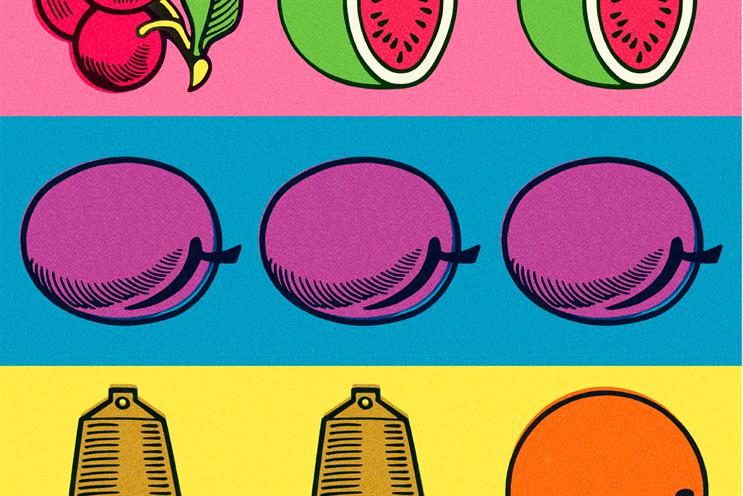 One of the most surprising and encouraging findings to emerge from this year's review of the financial credentials of privately owned marketing agencies in the UK is an increase in the rate of annual income growth.
The growth in gross income (revenue) was one of the key factors that enabled Adam & Eve Group, Karmarama, Response One Holdings and Ptarmigan Media Holdings achieve the maximum score in our annual award of "Private Plums". Last year, none of the 73 largest private companies achieved the maximum score.
The Private Plums scheme was launched by Marketing Services Financial Intelligence in 2002 to recognise good financial management among privately owned UK marketing agencies, irrespective of size. Companies are awarded up to eight Plums for meeting various financial criteria.
Winners of the maximum number of Plums are likely to become some of the juiciest targets for potential acquirers – assuming they want to sell – as Adam & Eve Group (pictured below) demonstrated this year when it succumbed to overtures from Omnicom Group. The partners in Karmarama also took the opportunity to turn some of their stakes into cash by agreeing to a buy-in by the former Financial Dynamics chairman, Charles Watson, and Phoenix Equity Partners.
Further evidence of the "power of the Plums" is provided by the fact that three of the top ten from last year's survey have been bought within the past few months – BBH Holdings sold to Publicis Groupe this year, Response One was acquired by St Ives and AKQA was bought by WPP.
Surge in income
Reflecting the resurgence of income enjoyed by many agencies, 33 per cent of the 76 companies examined in this year's survey had achieved a growth rate of 15 per cent per annum or more over the two most recent years. A year ago, that growth rate was achieved by only 23 per cent of companies. What we cannot ascertain is whether the surge in income reflected a market trend or – more likely – a polarisation of business towards better-performing agencies at the expense of the worse ones.
Under good management, any material growth in income should flow through into bigger profits as the company becomes more productive, and that appears to have been the case. More companies achieved a 15 per cent operating profit margin. More companies achieved an operating profit per head of at least £12,500.
Top 10 Private Plums 2012
Rank Latest
Rank Previous
Company
Financial year-end
Plums awarded
1
25
Adam & Eve Group
Dec-11
2
16
Karmarama (LS Kansas Six)
Apr-11
3
4
Response One Holdings
Oct-11
4
14
Ptarmigan Media Holdings
Dec-11
5
1
BBH Holdings
Dec-11
6
9
CHI Partners Holdings
Sep-11
7
–
Essence Digital
Mar-11
8
5
TBG Digital
Dec-11
9
12
Checkland Kindleysides
Apr-11
10
7
Mother Holdings
Dec-11
Source: Marketing Services Financial Intelligence
More companies improved their ratio of income to staff costs. And, as a result, more companies made an operating profit of £500,000 or more. Companies showing a big improvement in ranking this year included the design consultancies Radley Yeldar (up from 20th to 12th) and Jones Knowles Ritchie (up from 23rd to 13th), the integrated agency Albion Brand Communication (up from 31st to 15th), the media agency TCS Media Holdings (up from 34th to 19th after putting behind it the costs of an earlier staff fraud) and the medical communications agency Nucleus Holdings (up from 35th to 22nd).
In 2010, Jones Knowles Ritchie had made an impressive profit and paid an equally impressive dividend of £1.9 million to Messrs Knowles and Ritchie, who promptly lent most of it back. But such was the continuing trend of good profits that the company was soon able to repay those loans. Albion Brand Communication also paid out a whopping dividend of £2.7 million in 2010, but took a more cautious view in 2011.

It would be unusual to find that all these agencies improved their performance in the same way. However, one fairly common factor was a growth in working capital – an important resource in adverse economic conditions. The test we applied was to ascertain whether the company had sufficient net current assets (the excess of readily realisable assets over short-term liabilities) to be able to pay three months' operating costs in the absence of any income, with a minimum threshold of £250,000.
There was a notable increase in the number of companies that achieved an operating profit margin of 15 per cent or more, but even the latest total of 39 per cent remains rather disappointing.
Mother Holdings was the only company that fell short among the top 19, although, this year, it succeeded in edging its margin up to 11.2 per cent from 10.6 per cent, after we adjusted the figures to reflect a standardised level of directors' remuneration among all the companies surveyed. "Profit margins are at a level that the directors are comfortable with," the company said, and the evidence suggests that Mother shareholders are pre- pared to sacrifice a small amount of profit to ensure its staff is well rewarded: staff costs absorbed 53 per cent of gross income in 2011.
Staff costs at CHI & Partners also absorbed an above-average 60.6 per cent of gross income after setting aside £1.11 million into a senior employee bonus pool (previous year: £1.07 million), but the group still achieved a healthy average operating margin of 20.1 per cent.
Shedding Plums
Among the companies shedding some of their Plums this year was The Big Partnership Group, which lost two Plums and fell from third place last year to 33rd place this year. Rapier slid down from tenth place to 29th after shedding one Plum before falling into administration. Advertising Principles (Group) lost one Plum and slipped down from 32nd place to 56th, Exposure Holdings dropped from 28th to 49th after shedding one Plum, and Four Communications Group continued its rapid decline by shedding another Plum as it dropped to 64th place from 44th last year (and 22nd place the year before that) without the benefit of the accounting quirk that mitigated the fall last year.
With a number of offices in the Gulf as well as in the UK, Four Communications Group may have a higher level of operating costs per £1 of revenue than some others in the survey. It may also have suffered some profit erosion while it integrated last year's acquisition of BGB Communications. Whatever the cause, the group's average operating profit margin over the latest two years had slumped to 2.1 per cent without any explanation in the latest directors' report.
The poorest performer this year was Media Circus Group, which failed to produce any Plums at all. Last year, it was slow in filing its accounts and now we know why. Its gross income slumped, it continued to lose money, staff costs absorbed almost 77 per cent of the reduced income and it owed far more to short-term creditors than could be covered by readily realisable assets. The directors said they thought the result was "reasonable in the light of difficult economic conditions" and reduced their aggregate remuneration to a mere £55,000.
Five companies could muster only one Plum each this year – The Involve Marketing Partnership, Reading Room, Consolidated PR, WAA and Work Club. Neither Work Club nor WAA has filed accounts since 2010.
There is little evidence that companies where private equity has been invested have been more successful
The Involve Marketing Partnership has since gone into administration. Created by Martin Smith, it was previously known as Millennium Marketing and Communications Group, and then as The Direct Marketing Group. In 2003, Smith injected into it his own modest-sized advertising agency Millennium ADMP. What the business lacked was permanent capital of suitable scale. Over the subsequent period, Smith persuaded various other business owners to sell to him. The deals, which in aggregate valued the target companies at about £15 million, were funded by a mixture of bank borrowings, trading profits, deferred purchase payments and shares issued to vendors.
Clues to downfall
In addition to Involve and Rapier, Brilliant Media Group also fell into the hands of administrators before its business was rescued by Media-Com. Was there a clue to their downfalls in the rankings last year?
Having earned six Plums, Rapier looked quite solid at first glance. But that would be a superficial analysis. The two missing Plums were caused by a lack of income growth and staff costs. Perhaps more revealing was the fact that the Plums were based on 2009 figures, because the accounts for 2010 were late reaching Companies House. If the accounts had been filed on time, a far worse picture would have been apparent, as income had fallen sharply and loans to the majority shareholder, Jonathan Stead, of £1.3 million had been cleared by declaring a dividend of an even larger amount. Indeed, the 2010 accounts proved to be the last to appear on public view.
The ramifications of Rapier's collapse have been widely reported. Suffice it to say, it is extremely unwise for a dominant shareholder to withdraw money from a company if, as a result, the company is left so weak that it cannot withstand client cutbacks and losses.
Brilliant earned just four Plums last year and manifested rather more of the weaknesses that later were to impact on Rapier. Its income was in decline, short-term liabilities exceeded realisable assets by a massive £9.4 million, borrowings were approaching 50 per cent of shareholders' funds and interest charges absorbed an uncomfortably high portion of profit. It's an unusual situation for a media buyer that by its nature might be expected to be a cash cow, but Brilliant Media had been the subject of an earlier management buyout that lacked sufficient long-term funding.
Among the companies that appeared in last year's survey but which no longer qualified for inclusion this time were Meteorite Marketing, Hicklin Slade & Partners and Shine Communications. Meteorite scored fairly well last year and was subsequently acquired by the Interpublic subsidiary MRM Partners. Shine only filed abbreviated figures – not enough for inclusion here. Hicklin Slade rebranded as Crayon and then joined the Karma Communications Group.
Private equity
Unfortunately, it is too early to report on the financial condition of the Karma Communications Group (pictured below) because it has not filed any accounts. Instead, the survey reflects the financial condition of the Karmarama agency alone. Karma's acquisitions have been funded to a extent by a mixture of shares and loan notes from the private-equity investor Phoenix Equity Partners.

Private-equity funding is becoming ever-more prevalent in the marketing sector, and it can play a very valuable role. But, so far, there is little evidence that the companies in which private equity has been invested have been more successful than others. Among the beneficiaries of private-equity investment have been AKQA, Billington Cartmell, College Group Topco, Consolidated PR, The Engine Group, Reading Room, WRG Group and Writtle Holdings,
The cost of servicing HIG Capital's investment and borrowing from Bank of Ireland has been wiping out Engine's profits but, like most private-equity sourced borrowings, HIG's interest does not have to be paid out until the investment is eventually realised.
From a private-equity investor's perspective, it is of relatively little importance for a company to report a profit in its statutory accounts, provided there is a good prospect of getting a cash payback over about five years that is at least double the cash outlay. And in measuring the payback, the investor will include all forms of cash. So if interest forms part of the payback – and for all sorts of reasons it generally will – the private-equity investor will normally be happy to "roll over" the interest liability and add it to the eventual sales proceeds (plus interest on the interest, of course). However, that does not allow the company to ignore the interest liability it accrues each year. It remains a real liability, irrespective of when it is actually discharged in cash.
As private-equity investors commonly structure their investment to include an element of debt, this may have adverse implications for other parties. Private-equity investors often say that the debt component is simply included to make the deal more financially beneficial to them and that the debt should be regarded as tantamount to "equity". But equity carries the ultimate risk in the event of insolvency – being last in the queue for payment.
By contrast, the debt component of a private-equity deal will often be secured on the company's assets, giving it a prior claim over ordinary creditors as well as shareholders. Even without security, the very existence of the debt will reduce the amount available to other creditors on insolvency – by no stretch of the imagination can those circumstances be described as akin to an equity investment.
The more modest digital agency Reading Room that has recently expanded in Australia appears to have paid off most of its private-equity funding provided by an Octopus venture capital trust and obtained more conventional bank borrowings to fund its needs.
Despite the inclement economic conditions, there has been no overall increase in the number of companies that relied on borrowings. Some 78 per cent of the companies surveyed either had no net borrowings at all or had contained the level of borrowing to not more than one-third of the funds provided by the shareholders.
So the going may be tough, but the marketing industry looks better-prepared than has sometimes been the case in the past.
Bob Willott is the editor of Marketing Services Financial Intelligence.
Copies of the full Private Plums report are available to MSFI subscribers at www.fintellect.com/msfi