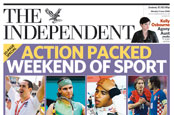 The firm is expected to unveil a figure of around 6.6 million worldwide unique users for May, which would place it significantly behind market leaders Telegraph.co.uk, MailOnline and Guardian.co.uk, which all recorded more than 18 million unique users in April, although ahead of Mirror.co.uk, which registered 4.2 million unique users in April.

The site, which relaunched in January this year, has been recording an ABCe figure for a year, but the group said it wanted to be certain of "the durability of its traffic growth" before publicly revealing the figure.

Its April audited figure was 6.4 million unique users, including 2.6 million UK unique users and 2.5 million US unique users. Unique users have risen, said the group, about 2% since the relaunch of the site.

The publisher, which currently uses AdLink as it digital sales house, has also unveiled plans to bring its advertising sales in-house, which it said is likely to happen next year.

Jo Holdaway, commercial director of The Independent's new ventures, said that moving digital sales in-house will hand it several benefits, specifically giving it more control over operations, adding that it will be recruiting extra staff to its nine-strong commercial team.

AdLink, which has held The Independent account since 2001, was reappointed to the brief in early 2007.

The strategy to establish an in-house digital sales team for The Independent mirrors the set-up at other national newspaper sites, with Guardian.co.uk, The Sun Online, Times Online and Telegraph.co.uk all having their own dedicated digital sales teams.

Last week, it emerged that Associated Newspapers is setting up a specialised digital sales unit for its flagship online newspaper brand, Mail Online.