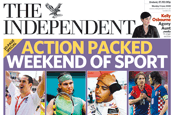 The company said its operating profits fell to €4.7 million (£3.7 million) in the first half of 2008, down from €7.3 million (£5.8 million) for the same period in 2007.

Revenues declined by 14.1 per cent to €115.6 million (£92.2 million) in the first six months of 2008.

INM, which also owns the Belfast Telegraph, said declining government spending on advertising in Northern Ireland and a slump in the property market contributed to the drop in revenues.

The regional newspaper group Johnston Press, which owns The Scotsman, also posted a loss today as its advertising revenues for July and the first three weeks of August dropped 21 per cent year on year.

The company's interim results showed advertising revenues down 9.5 per cent for the first half of 2008, compared with the same period the previous year.

The company's operating profit fell 15.6 per cent to £81.6 million. Johnston said it had cut costs by £7.6 million and would continue to actively manage costs.