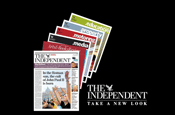 The newspaper has held initial meetings with agencies, and is looking to shortlist four shops before making a final decision by the end of the year. It is not known if the incumbent, CST (formerly Chick Smith Trott), will repitch for the business.
Digital advertising is also understood to form a major part of the brief.
Up until this point, the bulk of The Independent's advertising strategy has focused on tactical TV campaigns that push its range of offers and supplements.
The latest one, which ran in October, was for a series of guides that were aimed at helping its readers to further their careers.
In June, Chick Smith Trott also created a radio ad that hit back at Tony Blair's attack on the paper. It closed with the strapline: "The Prime Minister refers to what he calls news to views. You might prefer The Independent view."
The media planning and buying is handled by Walker Media and will be unaffected by the review.
The review comes in the same week that the Telegraph Media Group kicked off a search for an ad agency after its incumbent, CHI & Partners, scooped the Times Media above-the-line account.
The Independent did not return calls.