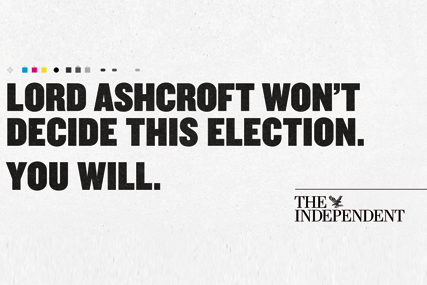 The ads, created by BMB's Trevor Beattie, attack Rupert Murdoch, The Unite Union and Lord Ashcroft for attempting to influence the result of the election.
One of the outdoor posters states, "Rupert Murdoch won't decide this election. You will," while another argues, "Trade union money won't decide this election. You will".
The campaign has been launched across London roadside poster sites and the London Underground, and will be supported with branded "Battle Buses" touring the country distributing newspapers and staging soapbox debates with local candidates.
Digital and print ads have also rolled out this week.
The digital work includes a video titled 'The truth behind the UK general election', which expands on the attack on Murdoch, Unite and Ashcroft.
A limited edition 64-page version of The Independent, which re-launched yesterday, will be given away from today (Wednesday 21 April) until 5 May in marginal constituencies and areas which have new independent candidates standing in the election. The newspapers will be distributed via branded street teams, targeted door drops, and a partnership with retailer Boots.
The newspaper, recently purchased by the owner of the London Evening Standard, Alexander Lebedev, has spoken out in favour of the possibility of a hung parliament, which it claims is a "more attractive option to the British public than a single flawed party".
Simon Kelner, editor-in-chief, said: "The Independent has always provided a balance to its partisan rivals.
"We believe very strongly that the democratic health of a country depends on political engagement from the electorate, who increasingly seek the truth behind the spin, and facts rather than propaganda."