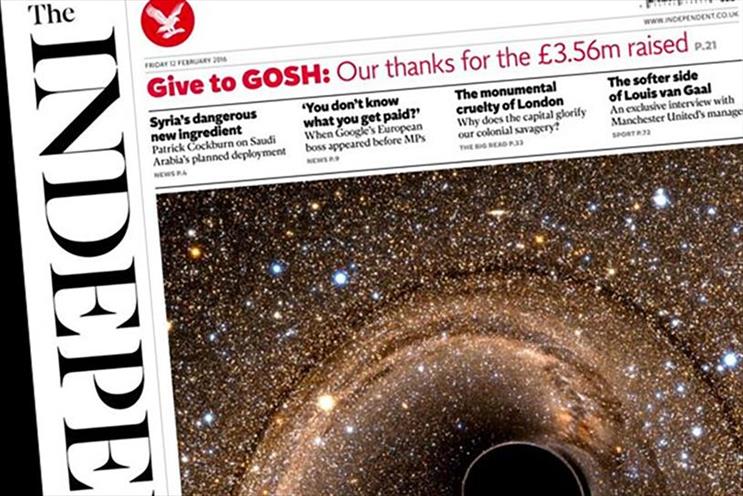 Both titles increased their year-on-year monthly circulation by 12% for the 12 months ending March 2016, with both The Guardian and The Independent growing their print audience by 8% to 4.03 million and 10% respectively.
ESI Media axed The Independent's print edition on March 26, following the sale of sister paper i to Johnston Press. The i is not included for the 2015/2016 survey as it did not have a dedicated web site until Johnston launched inews.co.uk in April.
Across digital, The Guardian and The Independent were not alone in the newsbands sector in recording notable increases in mobile (up 11% to 35.09 million overall), but also sharp falls in audiences using desktop computers (down 10% to 15.78 million overall).
By far the biggest increase in digital audience was recorded by The Sun, which axed its paywall at the end of November 2015. The Sun's desktop audience grew 228% (to 2.78 million), while mobile was up 100% to 2.92 million.
Simon Redican, the chief executive at Pamco, said: "These latest numbers provide further proof of the rude health of the Published Media sector. Mobile is delivering record audiences for many publishers with an annual growth of 11%."
The Daily Star was the only national paid-for newspaper to see a drop in combined print and digital audience (down 4% to 7.45 million), thanks to a 10% decline in average monthly print audience and 24% drop for desktop.
The only newsbrand to see a fall in mobile audience is The Times, which was down 26% year on year to 551,000 average monthly readers. The Times, which remains under a paywall, saw desktop audience grow 5% to 436,000 over the same period.
There was a more complicated picture for the magazines sector, where combined print and digital circulation was down 3% overall. While mobile was up 10% year on year for magazines, print was down 7% and desktop down 18%.
The Radio Times recorded the biggest combined increased for paid-for magazines, up 35% to 4.74 million, thanks in particular to a 104% increase in mobile audience to 3.75 million.
The biggest fall in combined audience for paid-for magazines was recorded for Top Gear Magazine, published by Immediate Media, which fell 11% to 2,836 million.