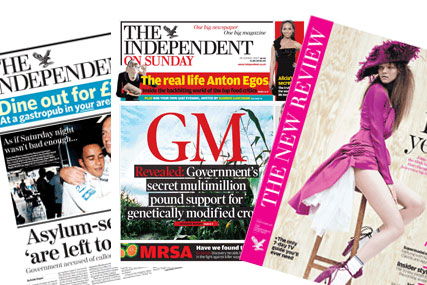 According to November's ABC figures, the title, which along with its daily sister paper, The Independent is being rehoused in Associated Newspaper's Kensington headquarters next year, showed little sign of halting its circulation decline.
The Independent on Sunday, which had registered its lowest circulation for the previous three months, picked up slightly from October, with a month-on-month rise of 0.19%.
The title, which is looking to reduce the number of bulk copies, gave away 34,110 bulk copies in the month - which are copies sold to hotels, airlines and gyms for a nominal fee and given away to customers. This was a reduction of 770 from the previous month.
Its Sunday quality rivals fared better, with The Sunday Times recording a circulation of 1,223,577, up 0.8% year on year.
The Observer was down 2.29% year on year, to record an average circulation of 443,975, while The Sunday Telegraph was down 3.57% year on year, to an average circulation of 622,260.
The Independent fell 13.84% year on year, to register a circulation of 201,113, with the other year-on-year fallers being The Daily Telegraph and The Times.
The Guardian nudged up 0.45% year on year, to an average circulation of 358,379, while the Financial Times was up year-on-year 0.82%, to 448,523.