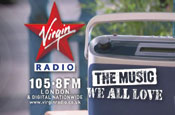 However, the sale price is less than a quarter of the £225m that SMG paid for the station in 2000.

The Indian media group has agreed to buy the station, but will not license the Virgin brand from Virgin Group. It plans to relaunch Virgin Radio under a new brand in the Autumn. Times of India has secured an option to license the Virgin brand name for £8m within two years of the deal's closing.

TIML will develop what it termed "a new music and entertainment brand", investing £15m in the new brand.

Times of India subsidiary TIML Golden Square will run the company via its Absolute Radio unit.

The sale means SMG has now sold most of its non-core assets and is free to concentrate on its Scottish TV business STV.

SMG plans to use the proceeds from the sale to cut debts and some cash will be returned directly to shareholders.

TIML chief executive A.P. Parigi said: "TIML is part of the largest media and entertainment organisation in India, with a proven track record of building powerhouse brands. Now is a great period to be entering the UK market and the opportunity to acquire a valuable radio asset couldn't have come at a better time."