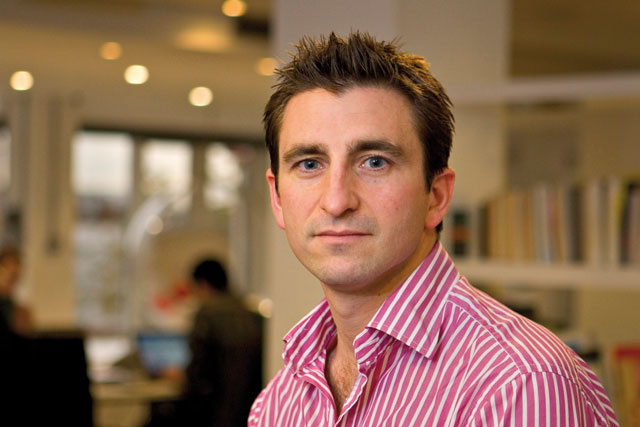 As we have pointed out once or twice over the past several months, this is hardly a golden era for media agency start-ups.
You would have to be "brave", to use a time-honoured euphemism, to make light of the horrendous cyclical factors related to a credit crunch followed by a downturn that have led to our current predicament of soldiering on across the economy's fog-enshrouded, low-lying plateau of reduced visibility.
And that's but the half of it in the media world, where prospects are arguably made even more opaque by structural factors. We're moving towards a market dominated by demand-side platform trading, new methods of leveraging social media and more intricate trade-offs between bought, owned and earned communications. This much is clear. We know where we are going - we just don't know how soon we will get there.
So Goodstuff's plans, unveiled on the third anniversary of the collapse of Lehman Brothers, are, arguably - to use another euphemism - terribly "ambitious". In short, it has given notice that it is stepping up from being a communications planning specialist (as it has been since its launch in 2004) to become a full-service media agency. To that end, it has hired Simeon Adams from Bartle Bogle Hegarty, where he was the strategy director, plus Bobby Din, Mindshare's operations director.
True, it has the support of Omnicom Media Group, which is a minority shareholder. But still. This is surely one hell of a long shot. The crucial point is that, though it will plug into Omnicom's "trading insights", it will not trade as part of the group's centralised trading unit, OPera, instead vowing to strike line-by-line client deals.
Andrew Stephens, a partner at Goodstuff, has promised to "reinvent" the full-service agency model - and insists that there is a bright future for smaller, independent outfits that do just that.
Interestingly, Mike Parker, the head of strategic sales at Channel 4, says he may well be right. He explains: "I don't think Goodstuff is alone in looking at the market and realising that smaller, independent agencies are currently doing very well. They trade well. In fact, some smaller agencies see it very much to their advantage to be able to trade around the edges of the big agency deals. That's the way the market is currently."
Perhaps, Paul Phillips, the managing director of AAR, says - but he's gone on record recently speculating that, whereas there's clearly a gap in the market for smaller-sized outfits, there might not be a market in the gap any more.
He would love to be proved wrong, but it will all come down to the detail. He ponders: "What is Goodstuff going to offer and how is it going to deliver it in a way that will attract a sufficiently robust client and revenue base? How is it going to make it all worthwhile for the new team, Omnicom and current and potential new clients?"
Tom George, the chairman, UK and Northern Europe, of MEC, agrees; Goodstuff should restrict itself to achievable targets. He adds: "It is difficult to compete at the large client level. Big clients demand deep media value against the backdrop of a consolidated media owner market. In addition, technological advances and their impact on consumer behaviour mean the media agency business is becoming increasingly complex. This has a price attached to it in terms of technology development, expertise and resource, some of which is truly affordable only at a holding company level."
In other words, George is questioning what smaller agencies mean when they use the term "full service". Is Goodstuff able to offer, for instance, a cutting-edge demand-side platform? Will it be able to afford to stay in that game?
The answers to this and other similar questions might determine the evolutionary path of Goodstuff's relationship with Omnicom. But one thing's for sure, George states: the big agencies are continuing to get bigger.
Understandably, Jenny Biggam, a founder of the7stars, itself an independent full-service media agency, doesn't see it that way. She concludes: "Independents bring a number of qualities to the client and media owner tables: high levels of service, passion, nimbleness, specialist knowledge, creativity, flexibility and the ability to build strong and lasting relationships.
"It is vital for the future well- being of the UK media industry that we maintain a diverse ecosystem so that media does not get too commoditised. It's in everyone's interests that Goodstuff and Omnicom make this work."
YES - Mike Parker, head of strategic sales, Channel 4
"Smaller independents are doing very well. They trade well. If you're flexible, you can go to where the real value is, around the edges of agency deals. If smaller agencies have money, media owners are interested."
MAYBE - Paul Phillips, managing director, AAR
"Congrats to Goodstuff for its bravery and ambition. Our industry needs people like them. And given the back-end services and financial support of Omnicom, they have stability and breathing space."
MAYBE - Tom George, chairman, UK and Northern Europe, MEC
"Big agencies have become bigger - the top six have more share than they did a few years ago. Network-owned agencies enjoy the protection of their holding companies at a trading level."
YES - Jenny Biggam, founder, the7stars
"I'm naturally going to say yes, and the reason is that clients want it. They value having a variety of types of agency to choose from. Our experience, too, is that as an independent we have had fantastic support from media owners, which should not be underestimated."