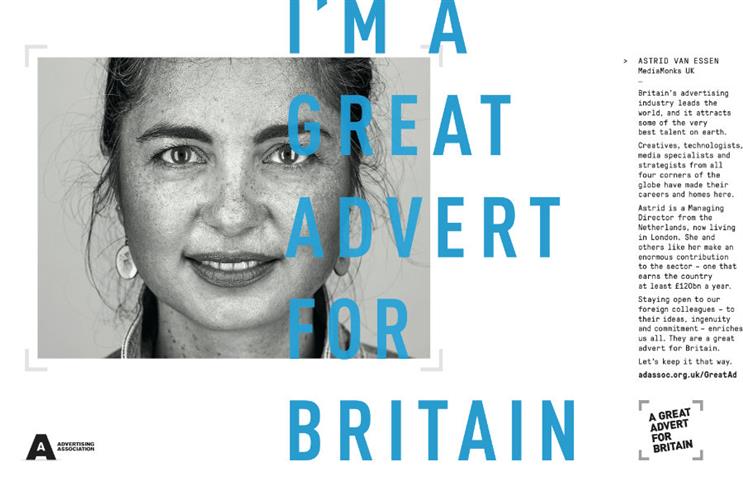 In its first large-scale advertising campaign since 1938, the AA believes it can help halt a hard Brexit by rallying both the marcomms industry and wider business.
Stephen Woodford, chief executive of the AA, said: "It is unashamedly a political campaign. We have a very clear ask, which is to have immigration as near to the current system as we have currently with free movement of EU citizens.
"You can't have a vision of a global Britain and a pull up the drawbridges immigration system. If you pull up the drawbridges prepare to be a smaller and less successful country."
James Murphy, group chief executive of Adam & Eve/DDB and chairman of the Advertising Association, said his agency has already had three people resign in the last two months in order to go back to European countries.
Murphy said: "It would be great if everyone prepared to evangelise for the industry. Through the whole process of politics in the last few years, people have traded a lot of very simplistic ideas and clichéd ideas.
"And whenever they talk about industry and the fabric of the economy in the news media you have politicians racing to put on a hard hat and hi-vis jacket and stand behind heavy machinery. The idea the only industries that need support and protecting is the hard hat, hi-vis ones is nonsense."
Woodford has called on immigrants working at UK agencies to share their stories as part of the campaign to underline their contribution to the economy.
He said: "It feels like there is an opportunity for a grass roots movement to take this argument forward.
"I feel like in advertising we are leading the charge because with the resources at our disposal we can create the ads. I hope we do light a fire with this. And the campaign is designed for other people to take on."
For instance, Woodford suggested a nurse could also feature in the advertising campaign.
Murphy also dismissed the notion that foreign workers were stealing British jobs, by underlining how having an international staff base Adam & Eve/DDB has been able to win international business and create more jobs for UK workers.
Lord Henley, who runs the House of Lords committee on advertising, has invited industry to share their knowledge with the committee.
He said: "The elephant in the room is Brexit, which will have an impact on how the industry recruits and retains talent. We would like to explore how the UK can continue to access talent it needs in the future and also develop those skills at home."
The launch of the campaign has been supported by research from LinkedIn proving the attractiveness of London as a global hub.
Josh Graff, UK country manager at LinkedIn, advised agencies to carry out an audit of nationalities of their employees in order to motivate themselves to become more vocal about immigration.
Karen Fraser, director of Credos, concluded: "London is a global powerhouse for advertising, we are in a unique position as one of the most internationally diverse cities on the planet for advertising and marketing, that produces some of the best, most effective advertising on the planet, and that attracts even more international talent, which in turn attracts more global businesses to use UK services.
"Our sector is undniably strong and growing, particularly in the digital capabilities outside of the London and across the whole country, our sector can grow in the regions and help more businesses to grow outside the capital."