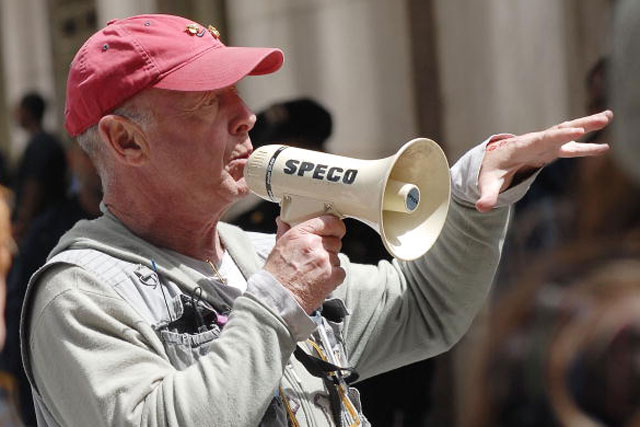 Along with his brother, Ridley, and others such as Hugh Hudson, Sir Alan Parker, Richard Loncraine and John Schlesinger, Scott brought the kind of high production values to commercials that he would later apply to his films.
With his penchant for Ferraris, beautiful women and Cuban cigars, he was already living the Hollywood lifestyle, and featuring it in ads, before he arrived there.
Scott's spot for Brutus showed models in tight jeans dancing to a thumping rock score. A Berlei ad showed girls cavorting in their underwear in a Perspex tunnel brandishing neon lighting strips.
"I cornered the market in sexy, rock 'n' roll stuff," he later recalled. "There were so few limitations at that time and the agencies just let me get away with anything."
A graduate of the Royal College of Art, Scott had no intention of following his brother, who already had a flourishing career at RSA Films. Ridley persuaded him by pointing out the money he could make through ads.
Scott often went without sleep to shoot two commercials simultaneously. His later advertising work included a Saab spot in 1985, the Barclays campaign in 2000 featuring Sir Anthony Hopkins and a film for BMW in 2006.
"He was a very amiable man who everybody got along with," John Salmon, the former Collett Dickenson Pearce chairman and creative director, said. "But he was also highly professional."
Tim Delaney, the Leagas Delaney chairman, who worked with Scott on commercials for Barclays and Telecom Italia, said: "He was a complete enthusiast about film-making. I remember him jumping with joy after shouting 'cut'. Every shot would give him pleasure."
Sir John Hegarty said: "Tony and Ridley made British commercial film-making the envy of the world. They were both trailblazers who changed the face of our industry. I'm still in shock at the news."
Scott always regarded his decade-long career as a commercials director as a labour of love. "I had a blast," he once observed.