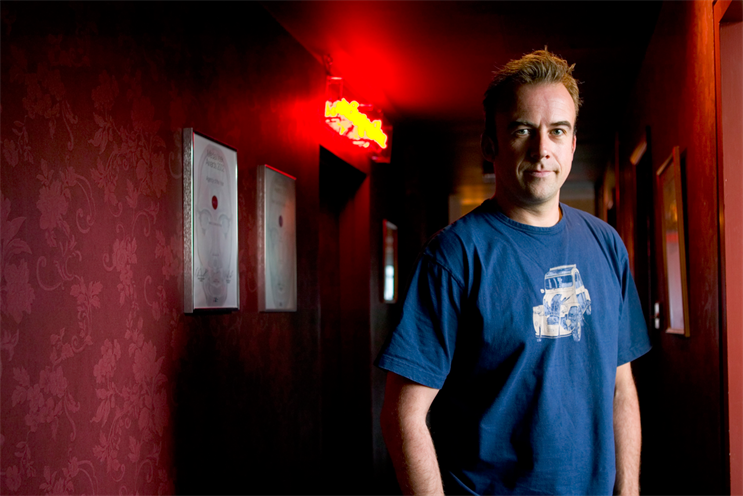 Harlow, who founded Naked in 2000 alongside Jon Wilkins and Will Collin, passed away aged 45 in hospital near his home on England's south coast.
A pioneer of communications planning, Harlow started Naked after leaving New PHD, where he was the managing director of Rocket. He later ran Naked New York.
Collin told staff of Hypernaked in an e-mail: "Without John, we wouldn't all be sitting here now. His talents and drive were a huge part of what propelled Naked from being just a name at the top of a company registration form into the agenda-setting business it went on to be – all within the space of just two years.
"[John] was undoubtedly mad, bad and dangerous to know, and in that lay his incredible ability to inspire clients and to create massive global publicity for what was at first only a minnow of a company. Not to mention a furiously imaginative mind. He played the violin; he drove a classic Citroën DS; he spent his teenage years as a New Romantic in Croydon."
Wilkins told Campaign: "John was one of the most joyful and driven of people. He was such an important part of Naked. He had the foot on the gas all the time. We liked to call ourselves the 'home for brilliant misfits' and John epitomised that."
Jonathan Durden, the co-founder of PHD, described Harlow as "one of the most spectacularly talented people I have ever met".
Durden added: "He was both inspirational and awesome. Fearless and yet strangely vulnerable. Occasionally he could also be a spectacular pain in the arse. Just like many others who are blessed and cursed with genius, he was complicated. That self-destruct button was never far from the surface."
Harlow's former Naked colleagues also paid tribute. Hannah Measures, Pete Lien, Ben Milligan, Anthony Swede, Gavin May, Matt Hardisty, Juliette Hughes, Sarah Frankham and Andy Griffin said: "In the early days at Naked, John, Jon and Will hired a bunch of slightly odd people who wanted to do, and be, something different in the business but didn't really know how to go about it.
"John was our leader. He showed us that there were no limits to what could be achieved in communications and that you could do it all with wit and irrepressible energy. He showed us that work could and should be fun. He taught us that you didn't need to fawn before clients or say what they wanted to hear. Mostly, he told it like it was and asked the same of you.
"He most certainly wasn't perfect but good lord did he revel in his and all of our glorious imperfections. There's a whole generation of media kids who hung on his words and, wherever they are, won't forget them. As a big Philip K Dick fan, he wouldn't mind this quote – 'the light that burns twice as brightly burns half as long'. John burned very, very brightly and we'll not be losing sight of his light."
Ivan Pollard, who joined Naked in 2005 as its fourth partner and is now the vice-president of global connections at Coca-Cola, said: "I did not know John for anywhere near as long as I would have liked but that did not matter. He made you feel like you knew everything about him from the first strange encounter and yet you knew you knew nothing.
"John was the epitome of the flawed English genius. Funny, adventurous, disrespectful, iconoclastic, warm, eccentric, unreliable, brilliant and charming beyond compare. He saw the world as it was, made fun of it and had fun in it. And when he took you along for the ride, it was as wildly exciting as you could imagine. I will remember his cheeky smile and the glint he got in his eye when he was about to lampoon the establishment and call 'bollocks' on those that would not change. It is sad that the bottle got the better of him; but we got the best."
Naked launched with a minority investment from the ad agency Mother. Stef Calcraft, a partner at Mother, said: "It was impossible not to love John Harlow. We first met in January 1997, a few months after he had started Rocket, PHD's agency within an agency. We had started Mother the month before and I remember John twinkling away on the other side of the table, brimming with creative energy and maverick ideas. Our connection was immediate and profound.
"Naked didn't just launch, it exploded on to the UK advertising scene. It was irreverent, maverick, creative and, above all, pulsatingly energetic. All the values embodied in John. He represented Naked's soul – its John Lennon – and complemented Jon Wilkins' charismatic and urbane leadership –Naked's Paul McCartney – in the most irresistible way."
Jon Forsyth, a partner at Adam & Eve/DDB, worked at Naked. He said: "John was a creative champion, an inspiration to the industry and a bloody good laugh. He was a brilliant thinker and taught me so much about the comms world, most importantly not to take the business too seriously! He had a magical charm that I hope lives on in some way through all the people he worked with and knew."
Rob Rees, the former marketing chief at Campbell's, hired Naked in 2001. He said of Harlow: "He was tremendous fun and brought an energy, irreverence and intellect that just didn't exist in the 'buy by the yard' London media scene of that time. He was the consummate risk-taker and had both big balls and a big brain to go with his undoubted charisma and affability. The Lydon of the noughties in UK media terms. I'll miss him terribly but his friends will have great memories and stories to sustain us in these sad times. A true catalyst, a top bloke and a media maverick. "
Harlow's funeral will be a family affair but friends and family are hoping to organise a memorial service at a later date.
Those wishing to offer a donation in memory of Harlow have been asked to contribute to the funds for Cuckmere Ward, which cared for him. Cheques payable to Cuckmere Ward can be sent via the funeral director Payne & Sons, 143 Seaside, Eastbourne, East Sussex, BN22 7NN.