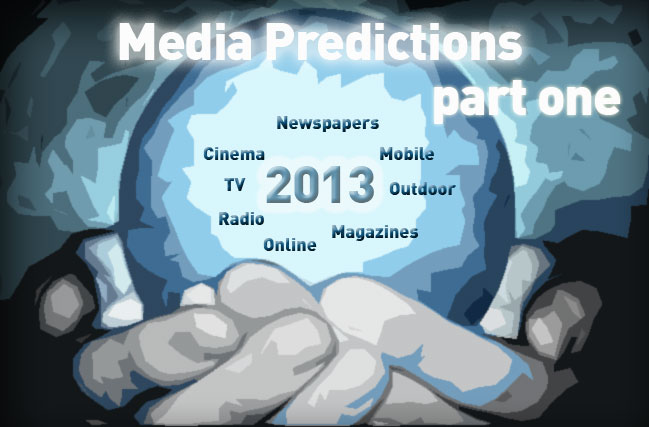 Agency
Mark Creighton, chief operating officer of Mindshare, lines up his media predictions for the coming year.
He says that the industry will see "the 'second coming' of personalisation."
"2013 will see more low-friction ways to personalise, enabling people to curate their experiences by giving applications on their mobiles and tablets permission to use their behaviour to customise media. This has huge implications for the media industry, with greater opportunities for outdoor and digital media owners to collaborate to personalise experiences close to the point of purchase. The challenge will be making those positive, enabling Little Sister experiences, rather than intrusive, 'get out of my face' Big Brother ones," says Creighton.


He also predicts that "content experiences, not just advertising spots" will prevail.
"While there has been a huge amount of technological change and adoption in 2012, it was a year that reminded us that great content still gets big audiences, irrelevant of the platform or device it is delivered on. Being part of content experiences, rather than between them or around them, will become far more central to media strategy in 2013.
"Media agencies will need to work more collaboratively with their media partners to create ideas that enable their client's message to be interwoven in great programmes, editorial or digital experiences. As a consequence, there will be a stronger narrative in the humble media plan, rather than simply a list of spots and insertions."

His final thought turns to "retaining top talent".
Creighton says: "The media industry has always been pretty promiscuous, but with even more ambitious graduates entering our profession, there will be greater pressure to retain our best people. Money won't be the sole answer, with employees having very different expectations of the workplace. They will want roles with clearly defined outcomes that will lead to personal success and greater flexibility to deliver work on their terms. As employers, we will need to respond by creating more flexible working environments and more bespoke approaches to long term career development for each individual."
Richard Morris, managing director of Vizeum, says: "It's human nature to overstate the pace and profundity of change in the short term, so heeding this advice, I see 2013 being a continuation of the direction of travel we set as an industry a couple of years ago. The spectre of recession will continue to loom large and, as such, agencies will be continually challenged by their clients to deliver greater effectiveness and to prove it – rightly so.


"Data will no doubt get bigger, with the role of technology in targeting and trading further increasing its influence on marketing budgets. Marketers will however have to wrestle with the challenge of marrying data and technology with intuition. This, I hope, will result in a new definition of creativity and an end to the outmoded assertion that these exist at opposite ends of the marketing spectrum.
"We should also see a further closing of the gap between communications and sales channels. Near field communication (NFC) at scale might not yet be near enough in 2013, but it suggests a step in the right direction for mobile commerce."
Morris adds: "The novelty of social media should be all but over, with clients and agencies assessing such investment with the same critical judgement they apply to everything else. This should hopefully bring an end to the 'Happy Friday everyone!' school of community management and bring about the birth of powerful, effective, integrated and scaled social marketing practices."
Television
Jonathan Allan, sales director at Channel 4, says: "It's clear that all businesses will have to create their own luck in 2013, but we enter the year with TV in rude health – despite the Jubilympics on the BBC, commercial viewing is up and most broadcasters have re-engineered their sales teams to become far more client-focused and creatively orientated. Hopefully, this means that as the most effective communications channel, we can help get UK plc back on its feet.
"Aside from producing brilliant programming that brings in the viewers, there are a few major things that will help us do this more effectively.

"Whilst TV spot creativity goes from strength to strength and will still be critical to our business in 2013, we need a closer understanding of our clients' business and marketing objectives. This is so we can build tailored solutions around their advertising ideas and our content and platforms, which cut through and provide differentiation. TV as a medium did very well at the Media Week Awards this year, and I'd love to see that momentum continue.

"The continuing growth of broadcaster VoD and viewer databases means advertisers can take advantage of a huge array of innovative advertising formats [like Adapt – launched at our upfront] and sophisticated targeting techniques, at scale. Download and 4G looks interesting as it will provide a brand new occasion for watching TV, increasing the power of our medium. We also think there is a growing opportunity in providing a platform for quality short-form content, so we will be looking for content partners to help us in this area."


Allan maintains: "There will be closer integration and understanding of the direct connection between TV and the second-screen/social amplification. We are working closely with SecondSync to understand the social dynamics and continuing to develop second-screen applications for our content and advertisers.

"Also, with Justin [Sampson, incoming chief executive] now in place at BARB, we are hopeful that there will be a renewed momentum in providing integrated measurement of our viewing across all platforms – this is a critical step to help plan our medium more effectively and ensure all our engaged viewers are effectively monetised.

"Finally, it's very important that advertisers and agencies understand their broader role in supporting the UK creative economy and a vibrant broadcast sector, so we in turn can provide additional investment in fantastic originated content, which engages with our viewers and provides a platform for advertisers to grow."
Radio
Karen Stacey, broadcast sales director at Bauer Media reflects on a successful 2012 for radio, but insists the sector must build on this momentum.
She says: "The last few years have been good for radio; generally we have seen more advertisers using radio and a reduction in the churn we have seen in the past. Against a backdrop of a steady 3% growth in 2012, S&P has been strong at +8% and we expect this pattern to continue in 2013.
"Radio offers a fantastic opportunity to integrate into content listeners enjoy, and we think advertisers will continue to want to take advantage of this. From our perspective, we see more and more advertisers looking for cross platform solutions.
"In terms of challenges, radio's consumer offering is as strong as ever and more widely available, but you can never be complacent. At Bauer, we believe consumers will continue to want the choice of national and local radio. National stations that give listeners the music, entertainment and lifestyle they love, such as our brand Heat and local stations like Key 103, that really connect listeners to where they live. We will continue to focus on understanding our audiences and giving listeners the content they want, where they want to be able to access it.
"Expect greater quality of choice for National DAB Radio with more radio brands becoming available on D1 (the commercial national multiplex).
"In terms of innovation, the radio industry, along with the BBC is working to improve the listening experience for consumers on their mobile device. Through advances in technology, we can create a multi format solution for mobile, incorporating FM, DAB, DAB+, DMB and adding it to the IP-streaming capability of the device, enabling radio to be heard regardless of platform.
"The other perennial challenge is around creativity and effectiveness. Recently, a leading marketer encapsulated this balance between creativity and understanding effect under the artistic and scientific vision embodied by Leonardo da Vinci. The RAB's 'Turning Art into Science' work is a good start; this comprises empirical data from hundreds of radio advertisers, to utilise rational arguments, and guidelines, for producing outstanding radio ads.

"The challenge for 2013 – crack the Da Vinci code."
Newspapers
Rufus Olins, chief executive of Newsworks, looks forward to a year buoyed by tablets and devices'
He says: "Much as we like to denigrate ourselves, our newsbrands, after decades of competing in one of the toughest media markets in the world, are now primed to go global in a very significant way. Next year that will be acknowledged. There is a great story to tell about newspapers' increased reach and range and that will increase in 2013 as more people buy and use more devices.
"New devices open up new opportunities – and the tablet will truly arrive in 2013, transforming the way we read news. We are not talking about a new media, but rather new platforms for journalism. The growth of tablets will be one of the hallmarks of year, with Nook and Galaxy and Experia taking their place alongside Kindle Fire , Google Nexus and Apple [once the shops have re-stocked]. It is estimated that tablet penetration will reach 30% early next year.


"Smartphones are everywhere already – three out of four adults are expected to have smartphones by the end of 2013. New forms of mobile advertising will emerge over the coming months that make the most of what the devices have to offer.
"This does not mean that print will disappear. The death of newspapers was heralded in the past by the arrival of radio and television. And the demise did not happen. What will happen is that loyal readers will become even more so. Considered, thoughtful journalism will become more highly prized – a welcome and nourishing complement to immediate and short-term news and social media activity."
Marcus Rich, commercial managing director of A&N Media, says: "As the Christmas decorations come down and we all step into 2013, many will be opening up their new tablet or smartphone and reading news content digitally. The digital momentum for newsbrands is overwhelming, enabling them to increase reach and relevance and continue to attract new and increasingly youthful audiences by highlighting the pulling power of well-written, well-edited content.
"And it will come as no surprise to anyone that tablet ownership will continue its impressive growth this year, with Enders Analysis and YouGov predicting between them that 10 million tablets will have been sold in the UK by August 2013.


"New innovations with the ABC Datacube and NRS Padd in 2013 will continue to show the newspaper publishers' progressive approach to newsbrands measurement.
"Our greatest challenge in 2013 is to deliver not just the research that helps us to measure the growth of the new platforms, but also insights which add to our understanding of effective newsbrand communications planning. It is through continued expert consumer insight that we will understand the evolution of our audiences' interaction with our new digital channels, as well as existing print channels, to collectively improve our ability to target by audience and deliver our clients' communications objectives.
"The continued growth in our audiences which 2013 will bring is proving to be exciting for advertisers. The opportunity to reach customers at different stages of their purchasing journey – from brand building and driving online journeys in the papers, to information exchange and transaction online – delivers an excellent return on marketing investment through coherent and trusted newsbrands.
"And finally, 2013 will be the year when newsbrands have to organise themselves to deliver seamless communications planning for clients across their brands. We feel we are leading the way in this area with our client-facing team now representing all of Associated's brands and platforms – Metro, Mail Online, The Mail, ANY Network – to ensure our clients reap the benefits of the full 360-degree power of our brands in 2013."
Read part two here.