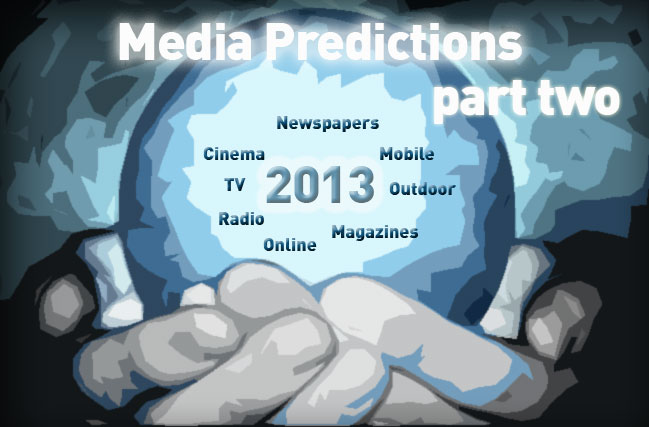 Magazines
James Tye, chief executive of Dennis Publishing, presents the threats and opportunities for the magazines sector:
"The bad news is that the downward trend in physical magazine sales will continue to accelerate. Much like the problems in the retail sector, the sluggish economy is widely held up as the bad guy for the decline in sales. In reality, it is our customers' needs, habits and ways of reading changing, that are shaping sales.
"Perhaps the most important change of all is that content will no longer be king in 2013. Great content can be let down by poor technology – witness unstable iPad editions or unrealistic download sizes – or simply poor discoverability. The very best journalism is of little value if it's on page seven of Google. The same goes for the iPad sales. If you're not flying in the iTunes Charts, how is anyone going to find and buy you apps on Newsstand?
"If you can get the technology and discoverability right, the worldwide explosion in tablets is a huge opportunity. The content we produce is some of the best in the world and now we can market our products to the whole globe just by clicking a few boxes in your iTunes account. Even the transaction and currency conversion is sorted for you.
"The increasing recognition of online advertising as an effective marketing tool also makes pureplay websites far more viable in the right sectors. This will mean you will see more launches in 2013, but they may well be online only.
"As a sector, we will need to become less insular. 2013 will see partnerships outside of traditional media continue to blossom. This includes more technology partnerships and far more integrated programmes with both clients and agencies.
"As a wildcard tip, if you're looking for a good investment, try fine red Burgundy (avoid the whites, there is too much risk of premature oxidation). The 2012 vintage was incredibly small and Asia's demand for these wines is really set to increase."
Neil Robinson, digital director at IPC Media, says: "The biggest challenge facing the magazine industry, and indeed the majority of UK businesses, is that we move into the New Year facing the same tough economic conditions as 2012. In order to best weather these conditions in 2013, publishers need to remain focused on delivering strong content, innovation and value for money to consumers.
"For IPC, the growth in mobile devices has to be top of the list of opportunities, ensuring our brands are accessible to consumers whenever and wherever they want them. While mobile is by no means new, the consumer ownership of new tablet devices post-Christmas has to be game-changing.
"These devices are no longer just the sphere of the wealthy or early tech adopters – the story of 2013 will be the increased consumption by mass-market consumers. With the launch of Nook, Kindle Fire and Nexus 7, and more to follow, we can expect the market to open up as consumers have a choice of operating system, size and, most importantly, price point.
"As publishers, the trick is to understand how content is best consumed, marketed, packaged and priced on these devices to maximise both the domestic and international potential."
Out-of-home
Dave McEvoy, marketing director at JCDecaux, says; "If 2012 was about inspiring a generation, then 2013 will be about generating inspirational content, with media partnerships and new technology making our digital and analogue sites ever more relevant for consumers.

"Content will be king as near field communication (NFC) opens up rich media experiences to consumers on the move, via their smartphone. With a third of all search now carried out via the smartphone, this synergy between out-of-home and internet on-the-move will continue to grow in 2013.


"2013 is going to be the year that outdoor provides clients and agencies with what they want to buy (audience) rather than what we want to sell (posters).
"On 26 February, the updated POSTAR service will launch and this will put the audience at the heart of the sell. POSTAR will enable us to quantify and qualify that audience and, with hooks to other media consumption, help agency planners to determine the role of outdoor in a converged media world.
"With all outdoor environments covered by POSTAR, we will be able to show the true reach for digital out-of-home, placing it on the same platform as TV, online and the press for the first time.
"New POSTAR will offer day audiences, allowing digital OOH to use its flexibility to target key audiences at different times of day. Digital outdoor will continue to grow, changing the dynamics of what is possible, running the stories as well as the headlines for brands such as The Sun."
Online
James Wildman, managing director and vice-president for sales at Yahoo! UK and Ireland, says: "In the online trading space, we expect to see an exponential increase in demand for online integrated solutions in the branding space and, simultaneously, the growth of programmatic buying on the performance side – publishers must ensure they cater for this.
"To ensure we continue to meet user and advertiser needs, we are focusing on our products to continue to build highly personalised experiences that connect people to what matters most to them, across devices."
Grant Allaway, group managing director of AD2ONE, says: "2013 will see the continuation of a trend from 2012, where advertisers that have traditionally invested in direct response focused display, will continue to reduce their spend because of the efficiencies that they are seeing from automated trading such as real-time bidding.

"The positive news for publishers is that agencies are needing to demonstrate their value beyond the performance of their desk, by working with media owners to devise smart innovative ways to make traditional reservation-based buying deliver a competitive advantage. This means that brand-focused activity will become more important as the interconnectivity between brand and direct response becomes more reliable to judge.
"We are seeing a huge appetite from brands looking to build memorable campaigns within a more contextually relevant environment that treats consumers as individuals rather than just a string of code. For publishers to access this kind of budget, they will need to open up much more visually, compelling real estate that builds on the user experience.
"To this end, we could well see movement away from big traditional portals, who, in this ever-changing environment, will struggle to attract the budgets they have been used to getting.
New major launches are planned this year which we think could well upset the status quo further.

"This year could also see some major changes at the BBC, long the target of the commercial sector. With the events of 2012 still unfolding, the fall-out has yet to be complete. A change in what it can and cannot produce digitally could well be a consequence.

"2013 is going to be an eye-watering year for film launches with 'Gangster Squad', 'Cloud Atlas'; 'Iron Man 3', 'Man Of Steel', the new 'Star Trek' movie and even a remake of 'Dirty Dancing'. Given the competition for box office, we should see some of the most innovative campaigns to date that will push the boundaries of what advertising on digital media can do. We have invested in dedicated staff to help service their demand, particularly for innovative environments like the PS3 console and mobile and eagerly await some superhuman marketing ideas.

Allaway concludes: "We will see the continued consolidation of the third-party ad sales sector. Just like TV and radio – there is only room for a select band of premium players. Following Hi-media's departure at the end of 2012, expect more small players to find the economics of the third-party business too tough to handle. What will emerge are the select players who can offer publishers and agencies the scale and performance that is now demanded. We won't see any brand new players – not in 2013 anyway."
Cinema
Simon Rees, managing director of cimema ad sales house DCM, says: "2012 saw 'Skyfall' burst through the £100m barrier, smashing the record set by 'Avatar' in the process, while the cinema industry's £200m investment in digital projectors saw DCM switch to digital on 28 September. A big year for our industry – but I believe 2013 will be the pivotal year in the evolution of cinema advertising.

"Cinema has always been an entertaining and emotional medium, but it is now faster, more flexible and unshackled from costly production. We're already seeing the adoption of digital technology attract new brands to the medium and in 2013, we expect to see the beginning of a huge period of change and creativity in cinema advertising.
"Our challenge as an industry is to talk to, but most importantly listen to, our advertiser and agency partners about what it means to them to be digital – how it affects the kind of messages they create, the kind of audiences they can reach and the level of freedom that working in digital now offers them.
"Audiences are consuming media when they want, how they want. People are also increasingly demanding the sanctity of more 'involved' media, so we must respect and protect our medium while evolving our offer to connect brands with people across multiple platforms.
"Putting people at the heart of everything we do will also inspire us all to provide better entertainment through the creation of advertising and branded content that engages cinemagoers before, during and beyond the movie."
Mobile
James Connelly, co-founder and managing director of mobile agency Fetch, says: "The year of mobile was 2007, when Steve Jobs unveiled the iPhone. There are now over one billion smartphones used globally, and next year, smartphones will account for over half of all mobile devices worldwide, and 75% in the UK, predicts the IAB. Soon, we'll use them more than our PCs, with mobile internet usage overtaking desktop internet usage, particularly as we see faster mobile broadband speeds than ever before.
"In the first half of 2012, mobile advertising revenues reached an all-time high – peaking at £181.5m with mobile ad spend up 132%. Mobile advertising revenues will undoubtedly continue to increase in 2013.
"Tablets – once the preserve of the technophile – will become a household commodity. In June 2012, tablet adoption was already up 400% on the last year, according to figures from Nielsen. This will have profound implications for the sector as a whole.


"However, brands' focus on the platform as a marketing opportunity hasn't truly taken off yet and I do expect this to change in 2013. More will embrace mobile's potential, recognising the unparalleled opportunity to build a close, engaged and positive relationship with consumers.
"Particularly in adapting technology, consumers are moving at a faster pace. This is why advertisers need to work with people who truly understand the mobile ecosystem, and you only really see that level of understanding in the specialist mobile agencies.
"Of the UK's 100 biggest advertisers, only 40% of them have mobile-optimised websites as was revealed at IAB Engage. This is something that will need to change in 2013, as companies failing to capitalise on the platform's marketing potential will be left behind."
Justin Gibbons, creative director at Arena Media, says: "[This year] will see more brands rolling out pre-paid credit models. Starbucks is already leading the way – encouraging consumers to deposit funds into loyalty accounts controlled through native applications.


"Processing transactions this way negates the transfer of financial details over the mobile networks and ensures transfer through more familiar, safe environments, including electronic banking systems. As well as providing a lucrative revenue model for brands, it will also raise consumer confidence levels.
"The benefits of a token currency (voucher or credit) go beyond convenience and peace of mind. The relationship and revenue can be enhanced with a loyalty scheme – mobile operators' 'pay-as-you-go' model has been a successful advocate of this approach – and secondly, user behaviour and audience segmentation provides invaluable data. The smart guys will gamify it with tokens, badges and league tables."
Read part one here.