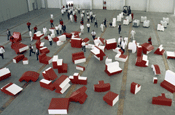 Next week, the European Commission is expected to unveil proposals to force car-makers to include the CO2 emissions of their vehicles and how many miles they do per gallon in a much clearer way on their advertising.
The new rules may also curb the use of some images, including those making cars look "sporty". The EU wants drivers to buy "greener" vehicles and reject gas-guzzlers as part of its drive to combat climate change. An EU strategy document says its move is about "changing habits in consumption and production".
The Advertising Association and Society of Motor Manufacturers are lobbying the Government in the hope that ministers will oppose the moves by Brussels.
The AA is warning that the proposals would be"counter-productive and damaging" for advertising and for the media, which relies on car ads as an important part of its revenue.
Sue Eustace, the AA's director of public affairs, said: "UK print and poster ads already carry CO2 emissions information in compliance with the existing EU law, and there are also strict rules regulating environmental claims made in any advertising.

"There is no evidence that consumer attitudes to car purchases will be changed if new European laws go further, because car purchasing is an infinitely more complicated decision than just seeing an ad."