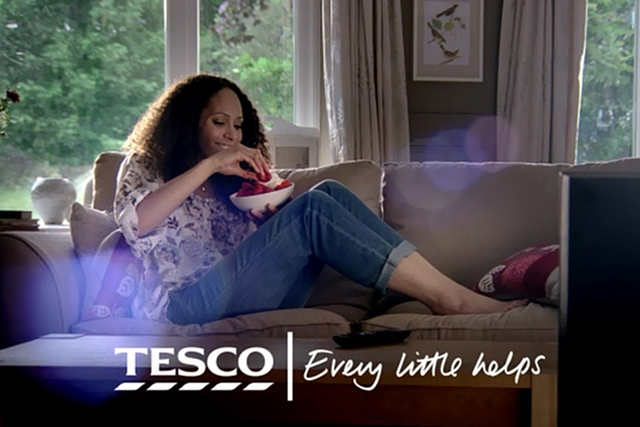 The supermarket giant revealed a 1% drop in like-for-like UK sales this morning for the quarter to 25 May, despite promises of a "new conversation" in its marketing and the beginnings of a £1bn investment in a turnaround plan.
The road to recovery was always going to be arduous and questions remain about whether the 'Every Little Helps' philosophy still rings true. Tesco's brand took a beating from the horsemeat scandal, which appeared symbolic of how the supermarket had lost touch with its customers as it relentlessly chased profits.
We asked industry experts to give their views on whether the Tesco turnaround strategy is working as the brand strives to live up to its own hype.
Russ Lidstone, chief executive, Havas Worldwide London
"The challenge for marketing communications in retail is you can't paper over any cracks in operational delivery – you're only as good in the consumers' eyes as their local store or most recent delivery. While the appointment of a new agency promised a new conversation with the consumer, the "blipvert" approach is heavily trade focused and may well be "a holding pattern", until the new conversation can happen based on the consistent operational delivery.
"The current campaign is a slightly different take on Every Little Helps, using product, with some lovely nods to popular culture, but it seems more about reflecting the lives of customers than restating what Tesco does for customers.
"Tesco is in the process of a transition and with all their marketing and operational excellence, there is no doubt they will pull off the transition. There will undoubtedly be blips along the way, but change will require some sacrifices to be made and that may mean 1% like-for-like sales decline before growth returns consistently."
Danielle Pinnington, managing director, Shoppercentric
"Unfortunately, Tesco's problems aren't going to be resolved by a change in communication. The turnaround plan also involves a huge refurbishment programme, a change in staffing and service structures, and a shift away from big box stores.
"None of these can be achieved overnight, and perhaps the hope was that a change in the marketing message would kick-start the necessary change in shoppers' perceptions. If that was the idea, then hopefully the business also recognises that this can only take you so far. Today's shoppers are smart enough to see through marketing spin – for example, the tone of the Tesco PR around the horsemeat crisis which left some shoppers feeling Tesco were simply shifting the blame, rather than taking it on the chin.
"At its heart, Every Little Helps suggests Tesco is focused on making life easier for shoppers. Unfortunately, many shoppers have their own anecdotes of how shopping with Tesco is not easy, which means the strapline lacks relevance. Tesco needs to reconnect with today's savvy and cynical shoppers, and that may well take a more radical shift in the marketing strategy. But let's not forget, this is the business that brought innovations like Clubcard, Finest and small-store formats to the UK grocery sector. The question is whether Tesco these days has the close understanding of their shoppers that can inform real change in the right direction."
Marc Cave, co-founder, Green Cave People
"The new advertising is just paying lip service to some age-old slogan - the real empathy of which it seems to have forgotten. Do today's Tesco really like their customers? Or do they see them as numbers on a Clubcard data analysis spreadsheet?
"'Every Little Helps' was, when we coined it 20 years ago, a statement of business philosophy, an employment policy, a customer promise and only very lastly, an advertising endline.
"We didn't launch it on the public until everyone inside the business from director to shelf stacker understood how it changed their very own job spec. But more than all those rational things, its real magic was that it expressed something non-rational. Something emotional and instinctive which made the nation prick up its ears.
"'Every Little Helps' is more relevant today than it's ever been. It is still a great yardstick for all the rational things that constitute 'shopping value' - price, quality, range, service, retail format. So I hope we see the warmth of 'Every Little Helps' turned back up to ten and radiated from the people inside, while expressed with more conviction and personality on the outside."
Matt Piner, retail analyst, Conlumino
"These results demonstrate that the view Tesco had put the worst of its troubles behind it was somewhat premature. The horsemeat furore has played a significant role in derailing the improving trend. Despite only having a small number of affected products, the retailer was very much at the centre of the negative fallout from the scandal.
"Whereas Sainsbury's and Morrisons were able to spin the episode into a positive, highlighting their product quality and supply chain transparency, for Tesco it merely raised some awkward questions and damaged shopper perceptions of the Tesco brand.
"Although the retailer has now taken significant steps to address this, consumer trust is of course much harder to rebuild than it is to lose. In fact, this is the crux of Tesco's problem – its challenges are much easier to identify than they are to fix.
"Attempting to overhaul the consumer experience, whether through more appealing branding or introducing new features, such as restaurants and bakeries, to stores, is the kind of step that takes years, rather than months, to properly execute. Therefore, there could well be a few more bumps in the road to recovery."