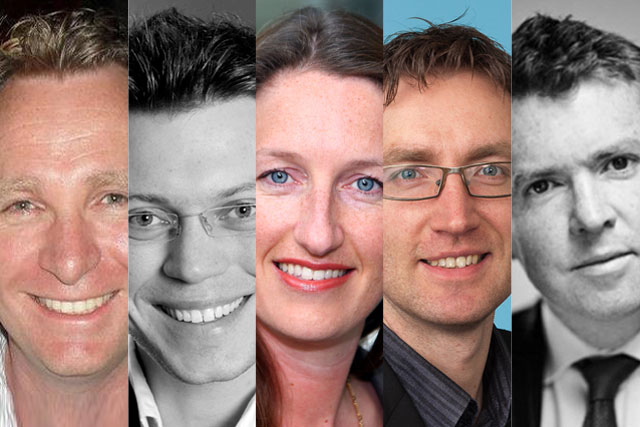 Last Friday the domestic audience bought into Danny Boyle's idiosyncratic vision of their country in a big way, with at least 19 million staying tuned throughout.
But while we were sold, the huge overseas audience might still be scratching its heads over some moments such as the NHS routine and the appearance of world wide web inventor Sir Tim Berners-Lee.
We have to wait for the numbers to be crunched before we know the size of that audience, but the number of global viewers was put at two billion for the 2008 Beijing Olympics Opening ceremony by Nielsen.
"A late start in Europe, meant early morning in Asia and afternoon in the US, so everyone could watch," says Norm Johnston, global digital leader at Mindshare Worldwide.
"If the trend of viewership continues overall, then this Olympics will be the most watched ever, especially as there are more ways to watch than ever before."
Early viewing figures from the US indicate an average of 40.7 million tuned in, an increase of 7% on Beijing.
Those games made the world feel better about China – sort of.
The Country Brand Index survey run by branding consultancy FutureBrand showed a definite post-Olympics glow, with China climbing from 56th to 48th place of the 101 countries listed. But the boost was temporary, and China has since sunk to 65th place.
So what can Britain expect? FutureBrand, tourism body VisitBritiain, market analyst Mintel, and the marketing heads of British Airways and easyJet tell us what they thought.
David Leslie, head of comms, Visit Britain
"We nailed it. Already we are seeing reactions, and they are overwhelmingly positive. Because it became a spectacle, it didn't matter that some of the references may have been obscure or lost – the big NHS beds became trampolines, for example.
"Also, remember that there is a prepared script for each nation to follow when they watch, which will be slightly different for Australia, for China and so on, so the viewers would have had plenty of context.
"We are tracking the interest, and it has been fantastic. NBC showed a delayed broadcast, so it would reach the primetime audience in the US, and there were record figures for an opening ceremony – bigger than Beijing, bigger than Atlanta. This was a big advert for us."
Tom Adams, head of Future Consulting, FutureBrand Worldwide
"The data we have from seven years of our Country Brand Index surveys is that perceptions do not shift wildly. We measure perceptions but the questions are general, so we do not draw a causal relationship.
"Saying that, awareness is always good for brands, so this should contribute. Canada, which has been rated first in the past two years, was very sophisticated in presenting itself when it hosted the winter Vancouver Olympics, creating strong associations to do with food, lodging and other areas.
"The trick is to pitch what you are good at, and reinforce this.
"At the opening ceremony, we saw a celebration of heritage and culture – a wonderful celebration. In our study, heritage and culture is one of the main dimensions, and we already score very highly in these areas, so should expect improvement.
"The truth is, a strong perception will do well for a country's brand, and a positive experience of a place will boost the strength of products or brands produced there as a result of those positive associations.
"There are some areas where we are ranked more weakly, such as in value for money and food, and it will now depend on how these things are conveyed. Perceptions are changed not by what people think, but experience.
"Over time we should be able to see a slow shift through careful brand management."
Abi Comber, head of brands and marketing, British Airways
"Danny Boyle did the UK proud. It was an amazing opening ceremony which really reinforced Britain's leadership position.
"It reminded viewers from around the world of what puts the Great into Great Britain, industry, our care and compassion for people and our artistic flair and creativity.
"I've heard nothing but positive comments from people on it and I think it opened the London 2012 Olympic and Paralympic Games with amazing aplomb. It certainly made me and all my British Airways colleagues feel enormously proud to be a sponsor of the Games and part of something so spectacular."
Tom Rees, travel analyst, Mintel
"The ceremony was obviously very successful, and it will look good, but measurable impact is difficult to gauge. Hotels in London are currently running at 85% capacity, so it is not bursting at the seams.
"The EU Tour Operators Association warned that we should not be too optimistic for the games, as their members tries to bulk book in advance, but rooms were not priced and hotel groups had to put in some guesswork – how much can we charge? Thomas Cook is the most obvious here – the pricing for its Olympics packages had to come down.
"Research we did before the Olympics showed that people in the US, Italy, France and so on were keen to come to the games, but not to the extent of staying in London.
"While there are lots of positive noises, it is important to remember that London is still considered to be an expensive destination, and the boom in tourism to 2011 came from a devalued pound, making it more affordable. Assuming there is no calamity in the Eurozone, then there could be an effect."
Peter Duffy, marketing director, easyJet
"I thought it was fantastic, and I'm still buzzing. It shows us at our best, and was creative, inspiring and really the most amazing show.
"Interestingly, abroad, international coverage for it has been extremely positive, from the US to Australia, they really understand what has been put in front of them. It has certainly done its job.
"Unfortunately it is far too early to tell whether this has had an impact on sales, but I think the legacy will be fantastic for the UK."