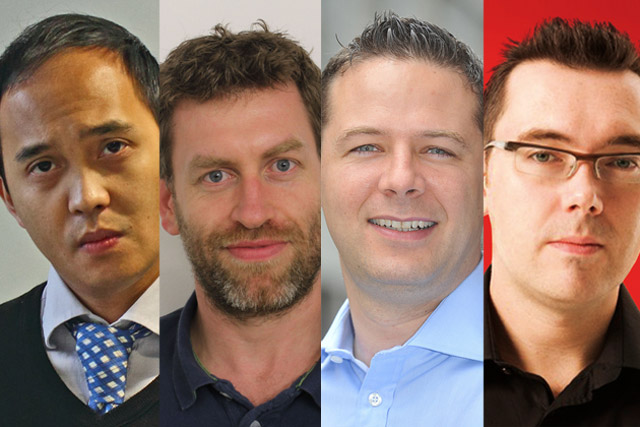 From today, companies will be able to apply to buy the generic top level domain (gTLD) of their choosing.
This means being able to pick their brand name, or something more generic, such as a location or product category to create a unique domain, beyond the existing .com and .co.uk.
The move could prove to be a big shake-up for the web, with several reports claiming that more than 1,000 companies, across different sectors, from finance to retail, could register to buy gTLDs before the registration window closes on 12 April.
It is expected that a third of these will be for brand names.
Most brands have kept quiet on their plans in this area, with Canon, IBM and Hitachi among the few who have confirmed they will buy their .brand names.
This week, the agency that promotes London, London and Partners revealed it was looking to buy a domain name linked to the capital, such as .london or .ldn.
Consultancy companies advising on gTLD strategies have been talking up the benefits they will bring marketers – for example greater control over their presence online, which can help with digital marketing, particularly on a global scale and also security issues.
However gTLDs come with a hefty price tag – $185,000 (£119,500) to register and a quarterly fee of $6,250. If two companies register for the same gTLD and are unable to settle it, it could lead to them bidding for it, driving prices higher still.
Marketers also have factor in the costs of creating new pages, updating their marketing both online and offline to drive awareness to the new domain.
This has sparked a flurry of criticism, with suggestions that brands are being held to ransom, with them having to pay up or risk another company buying their domain name.
Four experts tell us what they think of the benefits and drawbacks of the shake-up.
Mikhail Basman, online marketing director, Match.com

The point of registering top-level domain names is to streamline content, because there is so much content and pages and most people use one domain name. This will be a benefit for some but cumbersome for others.
One of the main benefits for brands is it can increase search visibility with more pages and content. But where it is detrimental to brands is the cost behind it – they will have to register which is expensive and then pay hosting costs and create new pages, which will need to be optimised. There is also potential consumer confusion behind it.
It will form a gap between brands which can afford to buy it and those which can't.
For established brands it will mean they have more visibility online but for challenger brands they will have to invest to gain visibility online. But this can go vice-versa as well. Challenger brands can buy established brands' gTLDs.
We will have to look into this and see what the pros and cons of it are for our brand because we are established. There is a risk of other brands buying our TLD but if our brand name is strong enough we may not have to go down this route.


Jeremy Garner, executive creative director, Weapon7
Large companies, especially global consumer brands, will always guard their identity carefully, and dot-brand internet domains are very much part of that.
Competitiveness with rivals, concerns about losing out on their "territory" by failing to register domains, and the drive to make their brand as accessible as possible for consumers – these are all driving factors.
There are pitfalls, though, especially as years of understanding and trust for .com domains has been built up. The chance of confusion amongst users in the early days of usage is quite high, but large-scale marketing campaigns to push whatever companies decide to place at the new domains should mean that consumers will get used to them eventually.
And those who use the new properties innovatively to create word of mouth will help define how others behave in the new space.


Stuart Durham, sales director EMEA, Melbourne IT

Essentially this is a tool to help achieve a digital strategy. Companies need to be clear about what they want to achieve online and some will find dot brand in their tool box and others won't. Brand must assess this alongside their business objectives and strategy.
This is a lot more expensive than buying a domain name, as it is at registry level and when you compare it with certain companies' digital marketing spend this is not that expensive.
Brands should consider if they have conflicting IP rights, look at whether it will help in online marketing and consumer engagement.
There is an early adopter prestige element to it, some businesses maybe looking to refresh and modernise their image, in a vanity way. Financial services companies may be able to use it as a tool to help with authentication and trust online.
Ones which do not secure name are faced with a difficult situation with finding another name or paying a lot of money to get that back. But I don't think brands are being held hostage.


Peter Davis, executive creative director, Gyro

I don't believe top-level domains will necessarily drive greater brand engagement. For example, seeing wear.armani won't make me go to their website any more than their existing URL would.
I'd expect gTLDs will really come into their own with regards to knowing whether you are on a company's genuine website or not.
With rising instances of phishing and fake sites out there, being on a branded top-level domain will give online shopping and bank customers a huge reassurance that they're not being duped.
GTLDs will only increase in importance in that respect, as companies take it in turn to issue warnings to be vigilant.